Snowshoeing in the Haliburton Highlands
Nature looks completely different under a glittering blanket of snow. Why not strap on some snowshoes and experience the Haliburton Highlands in a whole new way this winter?
Looking for a Guided Experience to help make your stay here more memorable? Check out Deep Roots Adventure and Yours Outdoors.
Hike Haliburton – Winter Edition is taking place on February 4th & 5th, 2023. With guided & themed snowshoe hikes, experiences and events for all ages, interests and abilities.

Find Winter Hiking Trails
Township of Algonquin Highlands
Want amazing snowshoe trails? All of our hiking trails serve as snowshoe trails in the winter. With 38 km of trails at 10 different trailheads, there are numerous possibilities.   Snowshoe rentals available.
Trail Etiquette & Trail Maintenance
Please DO NOT use groomed ski or snowmobile trails for snowshoeing. If you encounter a groomed trail while snowshoeing (for example on Beetle Lake Trail, Frost Centre Ski Trails, Sherborne Lake Access Road), please stay off the groomed portion of the trail.
Although snowshoe trails are marked with blue diamond markers and inspected several times annually, blow down trees or missing signage can cause sections of the trails to be blocked, re-routed or difficult to navigate beyond. If you encounter one of these problems, please report it to the Algonquin Highlands Trails office at (705) 766-9033.
Ridge Trail Hiking Network
This Trail Network has something for all levels of skill and ability. This Network of Trails includes;
Log Chute Trail, Crests of Kennisis, Circuit of Five Viewpoints, Algonquin Highlands Ridge Trail, Alven Ferguson Trail, James Cooper Lookout Trail
and
Beech River Trail
Length: Over 23.5 km combined – ranging from 0.7 km to 8 km
Difficulty: Easy Moderate Challenging
Features: Lookouts, heritage and nature at its best
Access: Multiple access points, please see map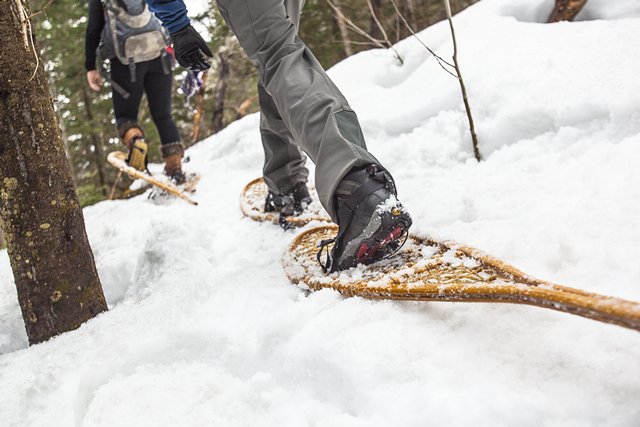 Frost Centre Hiking Trails
A number of stacked loops totaling 11km meander through the forest adjacent to St. Nora Lake. This trail system offers a little bit of everything, from millennia old geological formations which give insight into the last significant ice age, to large bogs, towering cliff faces, mixed forests, challenging climbs and spectacular lookouts. Be sure to pack lunch and your camera because you can spend an entire day exploring these trails.
Length: 1-11 km stacked loop
Difficulty: Easy
Features: Geomorphology Self-guided Hikes
Access: 20130 Highway 35 North – 12km south of the Town of Dorset.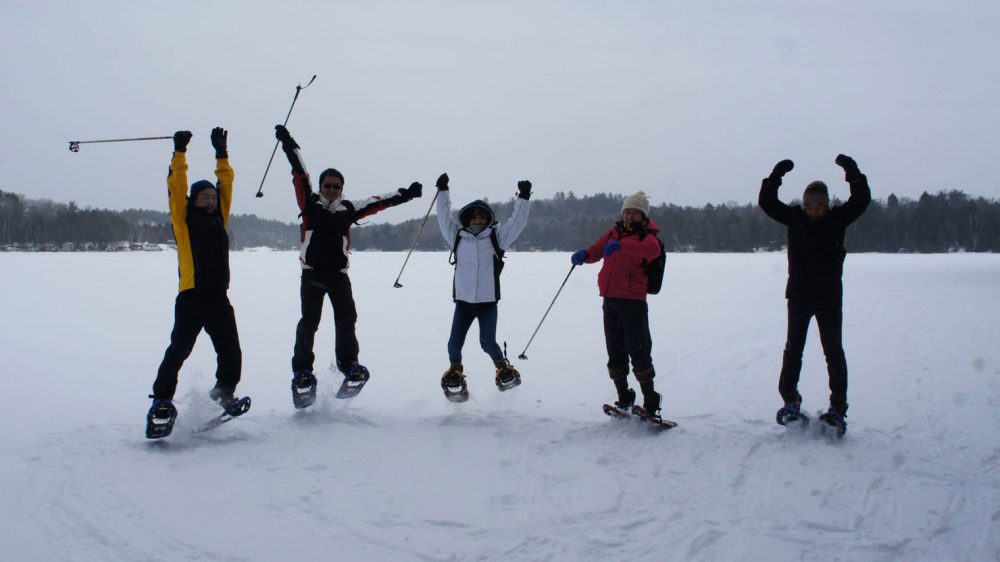 Snowshoes are made so light today that they're easy to use and a great way to explore parks. Most Ontario Parks are accessible for snowshoeing throughout the winter.  Algonquin and Silent Lake rent snowshoes and have designated snow shoe trails.
Algonquin park trails
Snowshoeing enthusiasts can go virtually anywhere within the park except on cross-country ski trails. If you prefer a set trail, you might try one of the short walking trails along the Highway 60 corridor or one of the two longer backpacking trails.
If you are trying snowshoeing for the first time, try Algonquin's Logging Museum Trail, at Km 54.5 (Hwy 60). The trail is a loop, with a few gradual hills.
Looking for more of a challenge? Try the Hemlock Bluff trail at Km 27.2, a loop taking you to a cliff overlooking a lake.
Length: various           Difficulty: Easy moderate challenging
Features: Self-guided Hikes
Access: Highway 60 North – 37 km north of the Town of Dorset.
Silent Lake Provincial Park trails
Bonnie's Pond Hiking Trail is converted into a 3 km snowshoe trail during the winter season.  Additionally, a 5.25km portion of the groomed yellow ski trail permits snowshoeing.
Difficulty: Easy to moderate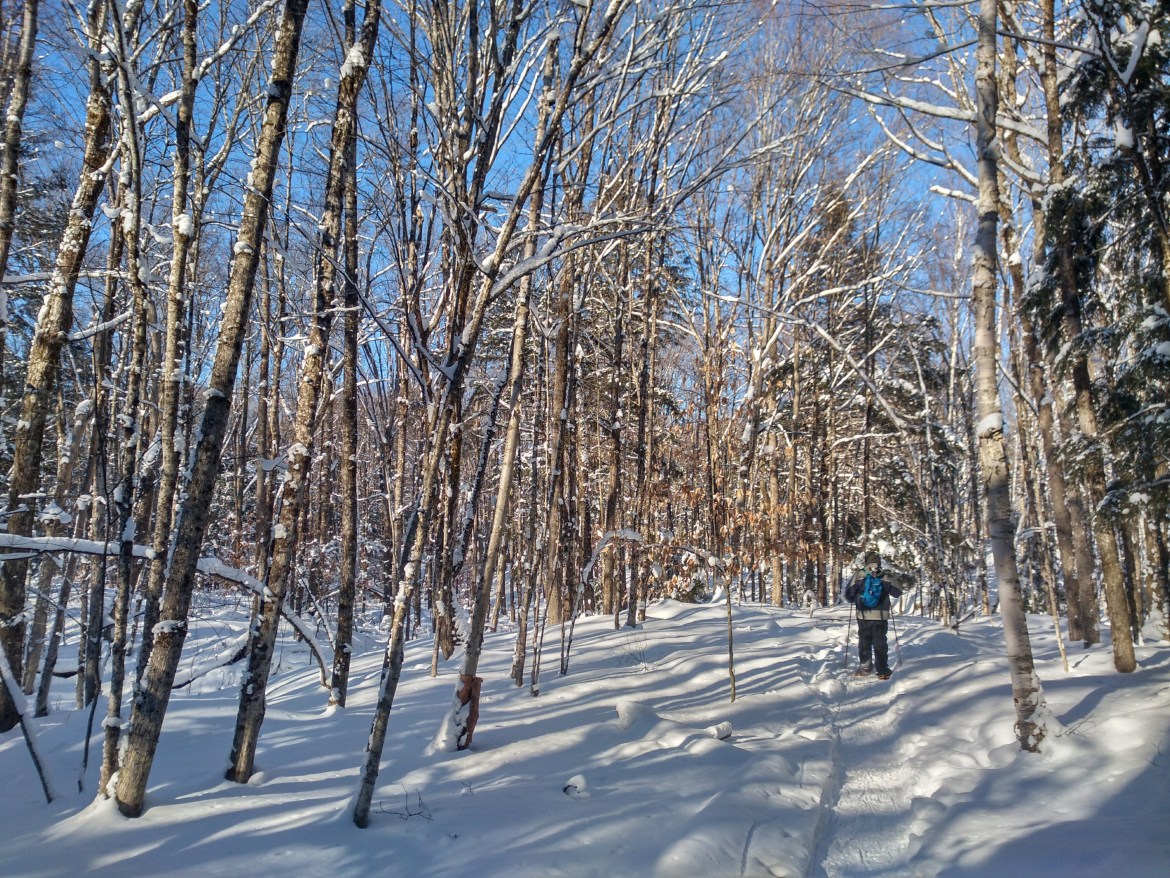 Queen Elizabeth II Wildlands
The Wildlands is a non-operating park with no maintained public facilities or services. Be prepared to use appropriate route finding and safety practices as interior travel beyond access points requires complex navigating in a remote semi-wilderness environment. Cellular service cannot be relied upon as a means of communication or navigation within these wildlands.
As well as being scenic, it is rugged and challenging. For more information see the Wilderness section Facebook  page at https://www.facebook.com/GHTAwilderness/
Access: Reminder re parking at Moore Falls. Please park in open grassy area to left of trail off Country Rd. just west of Hwy 35. No parking at km 1.1, where the trail leaves Black Lake Cottage Rd. to enter the woods. And definitely no parking at the Black Lake Cottage Rd. parking area.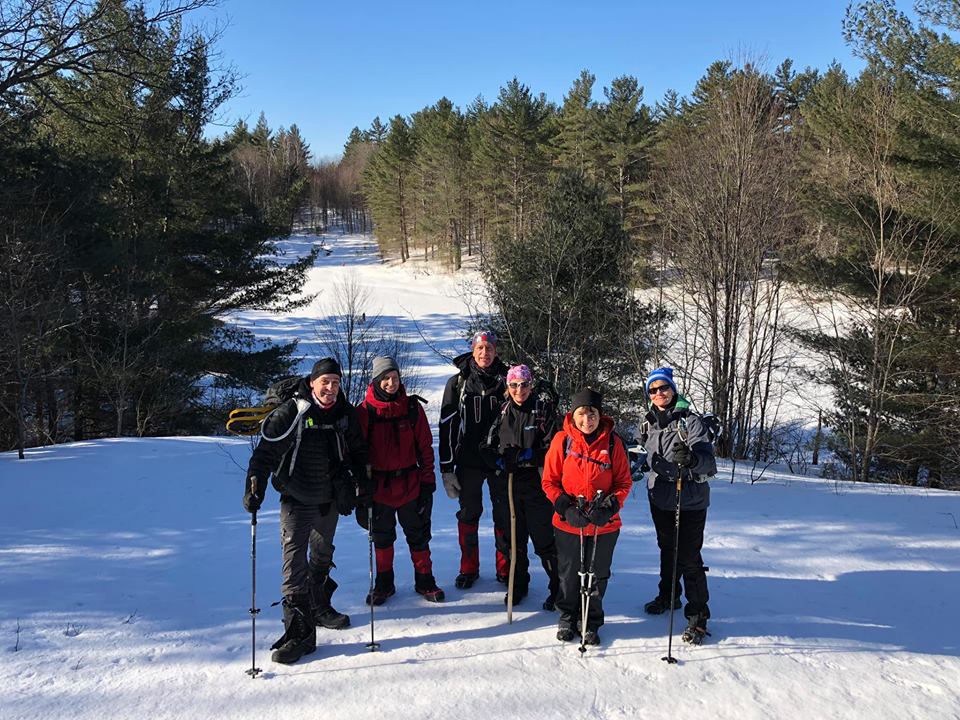 Haliburton Highlands Land Trust
The Land Trust believes that all our lives are improved by the presence of a healthy natural environment. We believe it is our duty to protect our natural and cultural heritage so that our children can have what we have.
If people want a guided hike, Yours Outdoors is offering guided hikes of Dahl and Barnum.
Barnum Creek Nature Reserve
Barnum Creek Nature Reserve is a mosaic of habitats ranging from tolerant hardwood, mixed wood, early successional forests, and grassland, to marsh and swamp. Running through this tapestry of habitats is Barnum Creek
 Difficulty: Heritage Hike easy to moderate – 5 km     Waterfall Way – Easy to moderate – 3/4 km     Ridge Trail – Challenging – 1 km
 Features: Nature   Click here to learn about winter access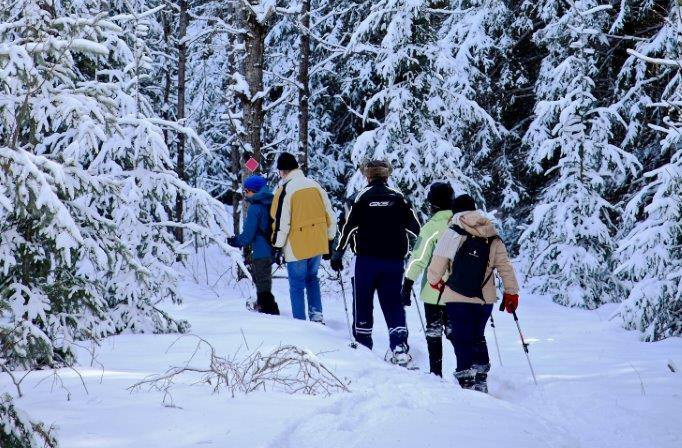 Dahl Forest
Haliburton Highlands Land Trust's Dahl Forest is approximately 500 acres and straddles 2.7 km of the Burnt River in Haliburton County 5 km south of Gelert. The ecological significance of the Dahl Forest is evident in the diversity of species and habitats found on the property.
 Difficulty: Easy to moderate
 Features: Nature and conservation planning
 Access: 1307 Geeza Rd, off of Gelert Rd/County Rd 1 just 5 km south of Gelert.  Please observe the Snowplough Turnaround signage and park along the north side of the road.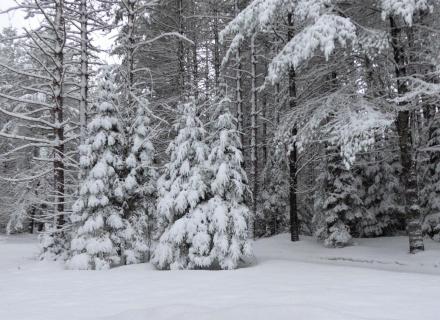 More great places to visit with Snowshoes
Abbey Gardens
At Abbey Gardens, we encourage you to make your way through our snow-covered grounds and take in the beauty of our winter wonderland. Our trails are groomed after heavy snowfall and are appropriate for snowshoeing and fat biking. Dogs welcome if leashed and cleaned up after.
Guided snowshoe hikes are available for groups of 10 or more at a cost of $10 per person…or explore on your own!
No snowshoes? No problem! Snowshoe rentals are just $10 per person. Adult and child pairs available.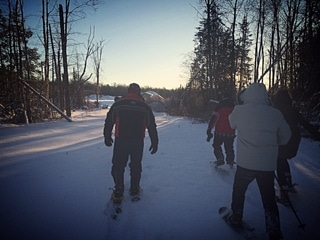 ALGONQUIN ECO-LODGE SKI TRAILS
At the Algonquin Wilderness EcoLodge we have 3 dedicated snowshoe trails, right from our front door. You can do them on your own, or hook up with one of our snowshoeing guides for a guided trek. And, if you are feeling adventurous, you can go "bushwhacking" anywhere!
The Algonquin Eco-Lodge offers special weekend snowshoe packages. The "Path of the Snow Walker" is a self guided snowshoe adventure that includes the snowshoe rentals, a GPS rental, and lessons on how to use both. And, of course, your meals and accommodations as well as the hot tub and sauna, are included!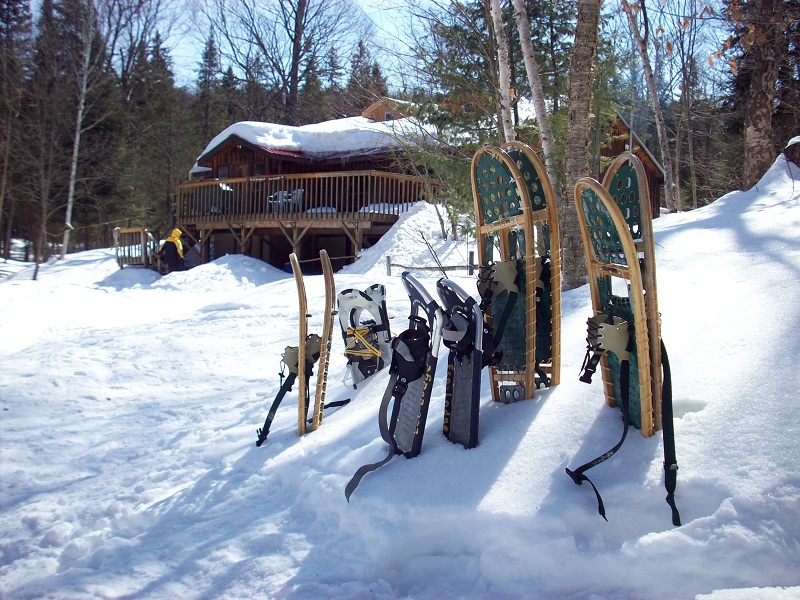 Blue Spruce Resort Trail
Snowshoeing is permitted on the sides of our Cross Country Ski Trails and the new 5 km. Beetle Lake trail that winds its way around the north end of Oxtongue Lake is available from the Resort. Ragged falls is beautiful in winter with its 50 meter elevation and massive ice formations.
The more ambitious will find the trails in Algonquin to be most rewarding with trails rating from novice to expert.
Snowshoe rentals are available next door at Algonquin Outfitters.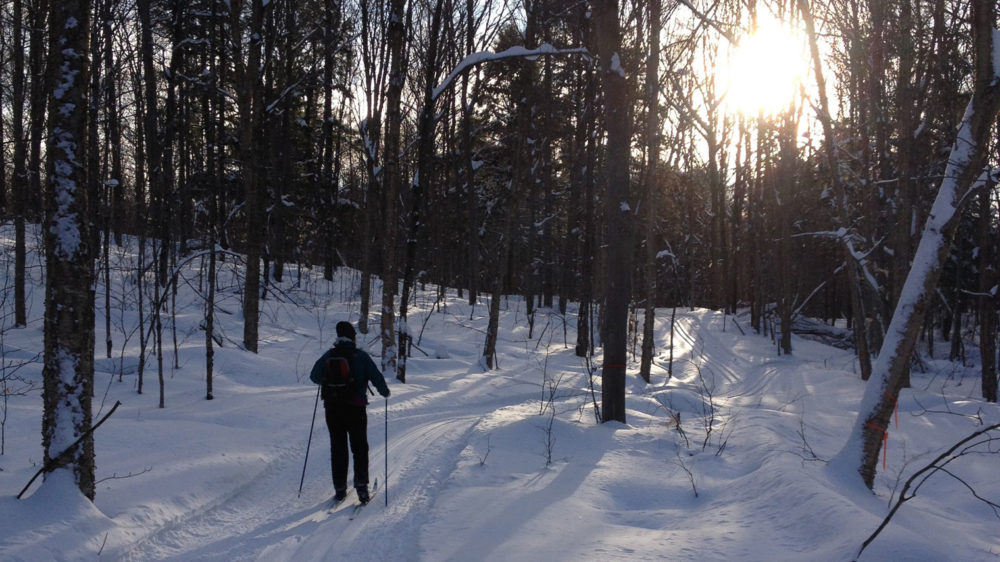 Farr Road Walking Trail
You may notice remnants of old pavement under foot. While this forgotten roadbed does eventually connect up with the existing highway just south of town your efforts to follow it through will be thwarted when the road abruptly disappears under a scenic wetland. Before turning back take a moment to admire the massive beaver dam that created the marsh and marvel at the engineering skills of this energetic family of beavers.
If you happen to be a geocacher, there are geocaches hidden along this trail.
 Length: Approximately 600 m each way                                  Difficulty: Easy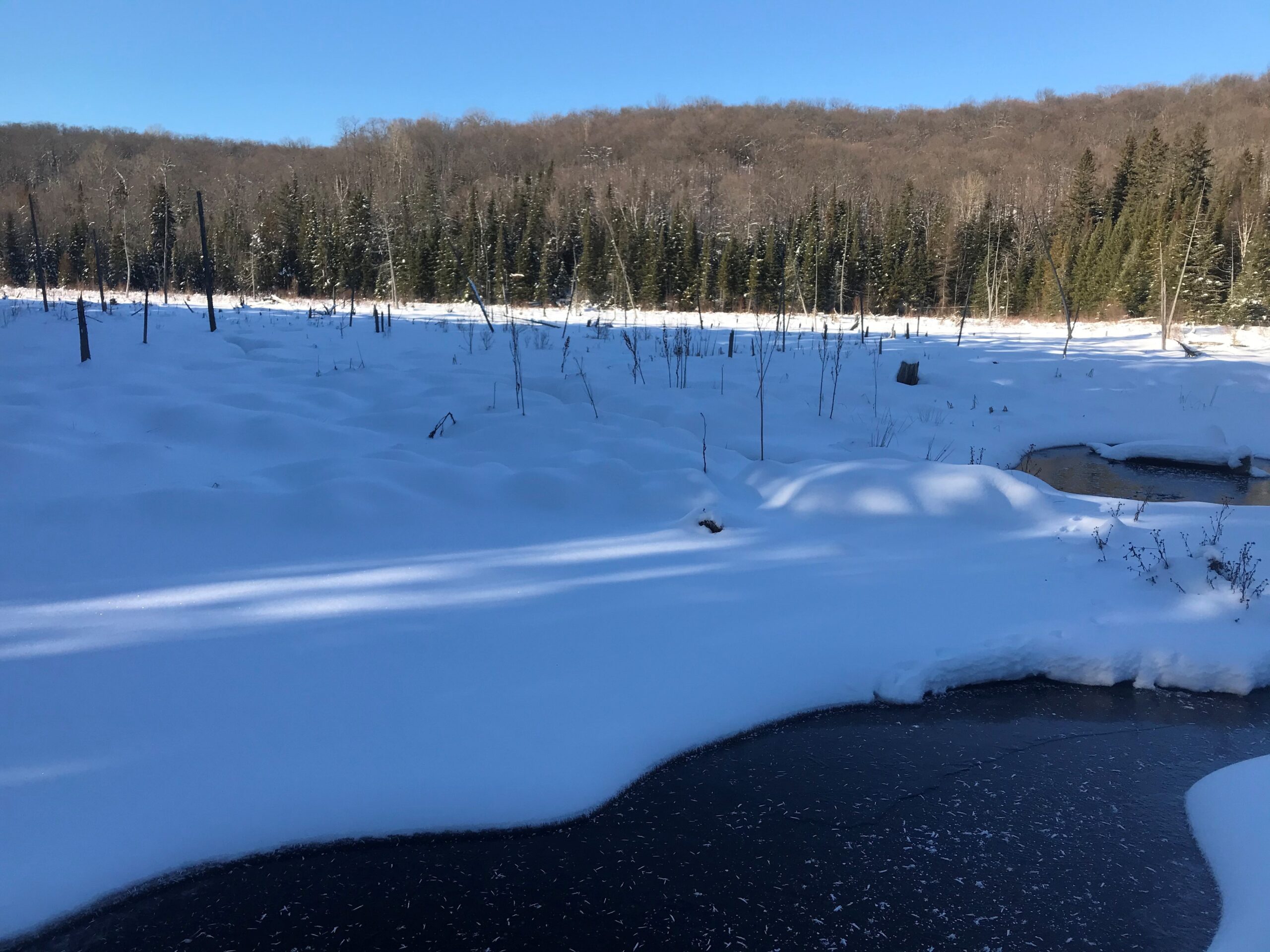 Glebe Park & the Haliburton Sculpture Forest
On the north shore of Head Lake in the village of Haliburton, Glebe Park is 175 acres of woodlands and rolling hills with networks of trails for cross country-skiing and snowshoeing. It is also a great place to engage with art, culture and heritage. Glebe Park is home to the Haliburton Highlands Museum, Haliburton Sculpture Forest and Fleming College, Haliburton School of The Arts.
All trails in the Sculpture Forest (including the ski trail) are open for free to snowshoers.
 Difficulty: Easy to moderate
 Features: Arts and Heritage
 Access: Glebe Park has two entrances: 297 College Drive, Haliburton and/or 66 Museum Road, Haliburton
Haliburton Forest
Our Trails are relatively new and maintained by Haliburton Forest; where forest health, safety, and sustainability are the number one priorities. You'll get the chance to see evidence of wildlife scattered around; from deer and moose tracks to snowshoe hares and owls. If you're lucky you may even hear wolf howls! Snowshoe Rentals are available 
Length: John's Trail: 1.5 KM  &  Dale's Trail: 1 KM  Difficulty: Easy
Features: Parking at Basecamp will get you near washrooms, amenities, and the Cookhouse for a delicious meal. While here, visit the Wolf Centre, Logging Museum, and much more.
Access: Basecamp at Haliburton Forest – 1095 Redkenn Road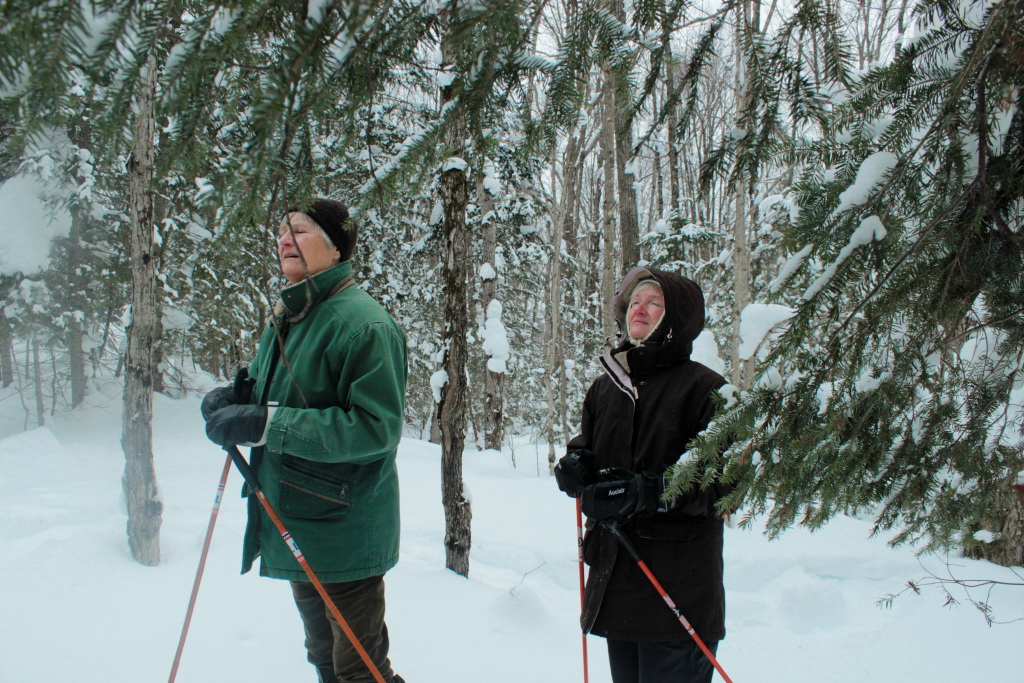 Harrington Park & Minden Wild Water Preserve
Located on Horseshoe Lake Road, this Park allows visitors to view the spectacular beauty of the Minden Wild Water Preserve and rapids. This park features a footpath along the rapids which offer great vantage points to watch the many kayaking activities that take place here.
Length: Approximately 0.5km
Difficulty: Easy to moderate
Features: Spectacular view of the rapids
Access: South of Horseshoe Lake Road / Bethel Road intersection
Sir Sam's Snowshoe trails
Your snowshoe adventure will see you hike along picturesque trails through forests and fields that offer panoramic views over Eagle Lake and Moose Lake. This three kilometre trail will exhilarate and challenge the novice and expert snowshoe enthusiast alike! After your hike, relax by the fire in our comfortable and spacious chalet for lunch or enjoy the view of the trails from our sun deck.
Snowshoe passes and rentals can be purchased daily at the ticket window (not available online).
Access: 1054 Liswood Rd. Ealge Lake; access off parking lot at main chalet only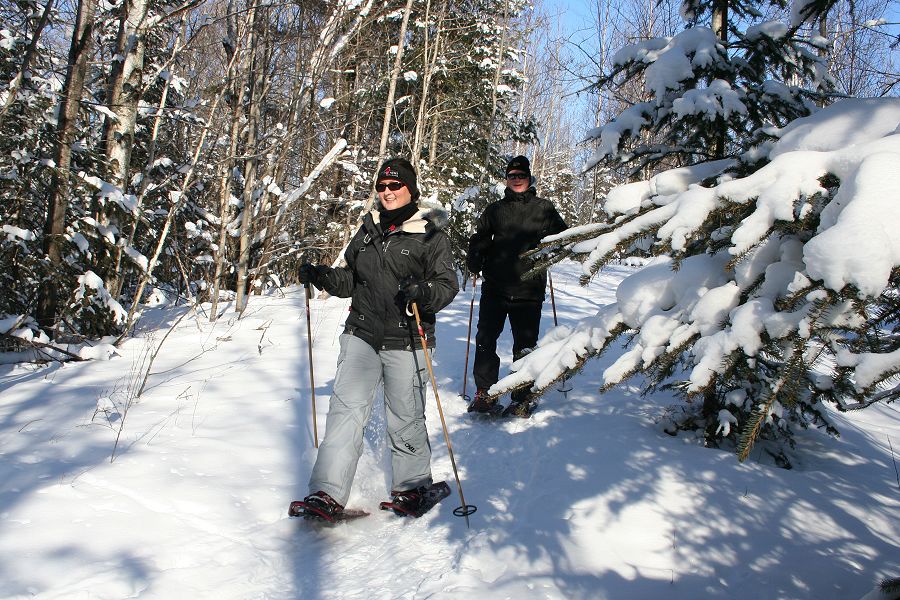 Snowdon Park
This is the largest park within our township, consisting of 460 acres of beautiful mixed woodland. This park is a must see destination point for outdoor enthusiasts for hiking, snowshoeing, cross country skiing, bird watching and many other outdoor activities.
Length: Approximately 3km with several other shorter trails throughout
Difficulty: Easy to moderate
Features: Year round access and wheelchair accessible sections
Access: Entrance is just south of the South Lake/Gelert Roads intersection
Sucker Lake Walking Trail
On occasion beaver dams, on ponds above Sucker Lake fail and gargantuan volumes of water pour into Sucker, overflowing and eventually washing away the dam. As you walk the trail you'll see how those past spills have uprooted trees, bared the bedrock and carved a deep gully. On numerous occasions the flooding also undermined the railway track where the I.B.&O Railway crossed the creek at the mouth of the river. This spot became known to locals as "The Wash-Out" a favourite place for Sucker fishing in the spring.
Length: Approximately 750 m each way
Difficulty: moderate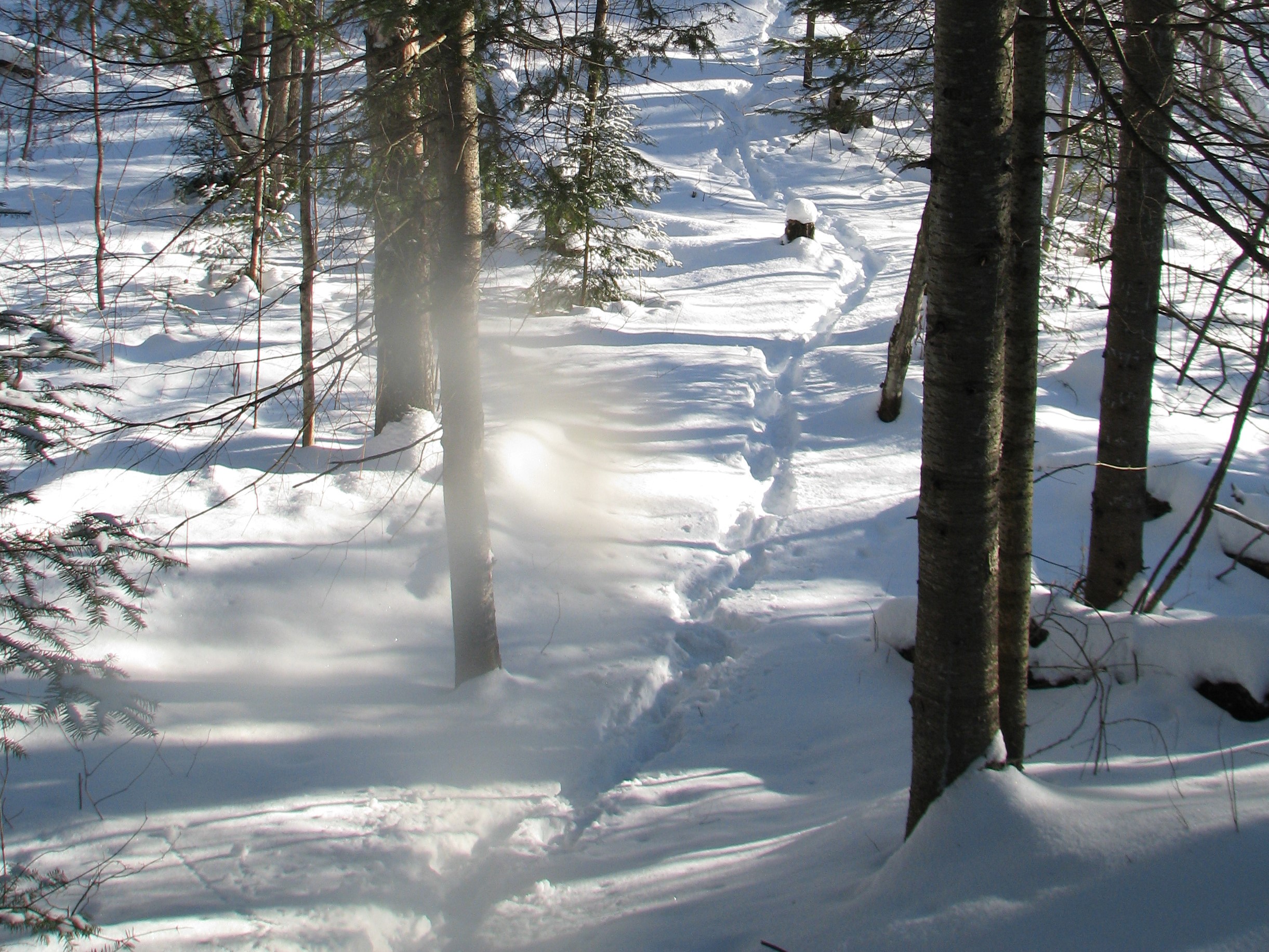 Twin Lakes
There are snowshoeing trails at Twin Lakes (same location as the ski trails). 
Twin Lakes: 5 kms of marked snowshoe trails. Please do not snowshoe on the groomed ski trails.
Length: Approximately 5 km
Difficulty: moderate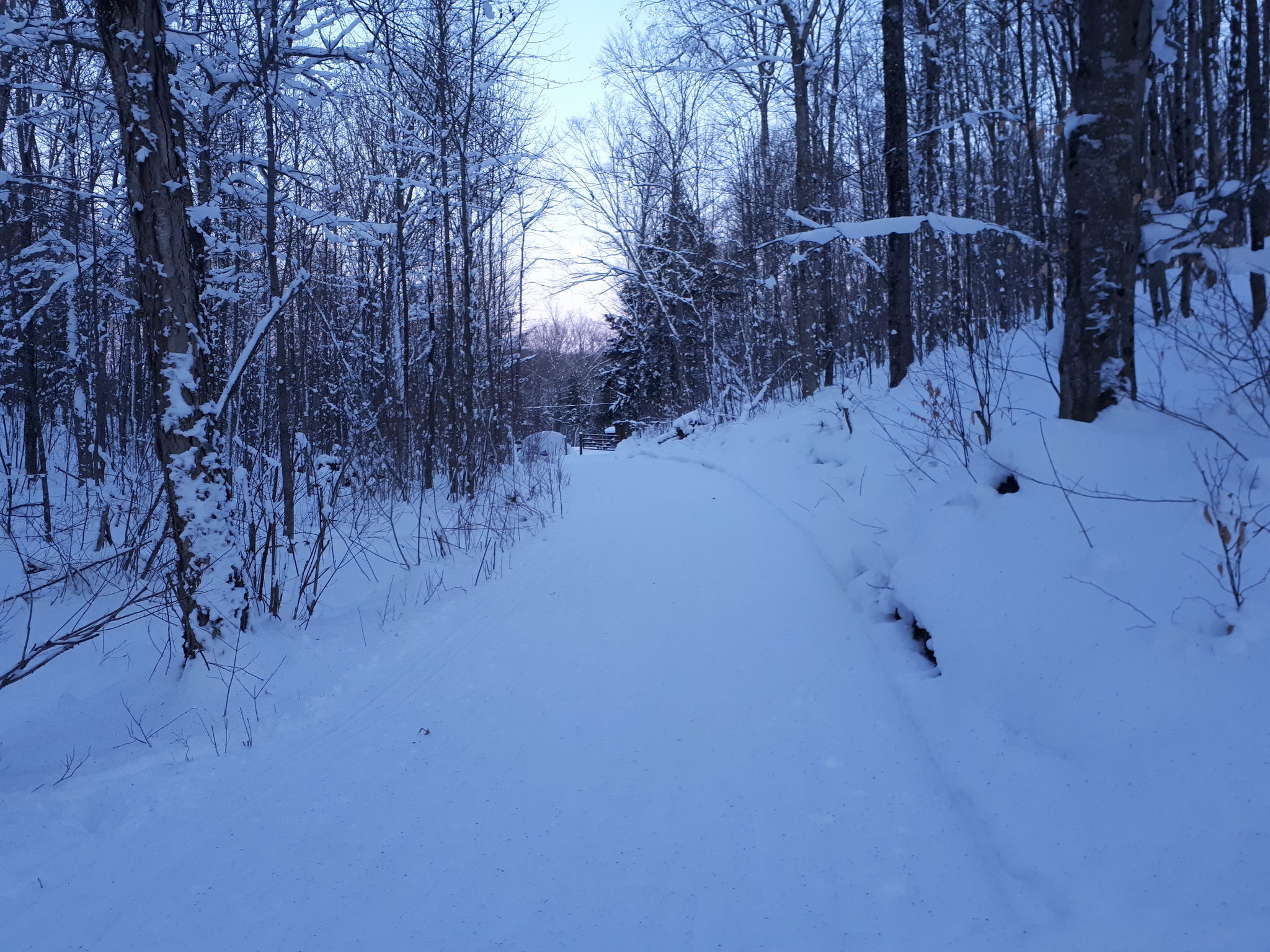 Snowshoe then spend the night
Bonnie View Inn
The Bonnie View Inn has a great 3 KM forest loop right across the road, as well as a wonderful frozen lake magical setting for snowshoeing. We supply snowshoes to all of our overnight guests.
We offer a 2-day family or couple package. The cost of our 2-day snowshoe package is $500 + HST. (not valid during the Christmas/new years holidays or family day weekend)
This is for a two night stay in a lakeside suite with fireplace for 2 adults OR 2 adults/2 kids under 12; including breakfast both mornings. Call us at 1-800-461-0347 or look us up at bonnieviewinn.com. Also included are skates & an ice rink, toboggans & 2 hills, cross country skis.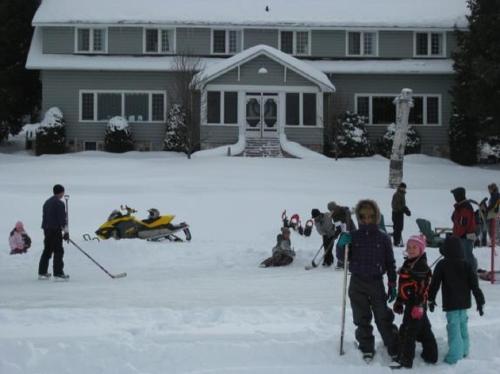 Stouffer Mill B & B
Stouffer Mill B & B has 5 kms (3 loops) of snowshoe trails accessed and ending in our parking area.  The trails take you through the forest and out to a large beaver pond and lookout.  When the beaver pond and surrounding wet lands are frozen you can snowshoe out to the beaver lodges on the pond and explore the extensive, frozen wet lands.
We offer a 2-day dinner package.  After your day of snowshoeing, warm up by a crackling fire or relax in our hot tub while the delicious evening dinner meal is prepared for you.
If you need snowshoes, we have complimentary snownshoes here.
The cost of our 2-day snowshoe dinner package is $430 per couple plus HST. Call us at 1-888-593-8888 or look us up at stouffermill.com