BEST CROSS COUNTRY SKIING IN ONTARIO
If you're looking for a place to get your Nordic on, the Haliburton Highlands has you covered, with 188 kms of groomed trails. Whether you're a hardcore racer, a backcountry type, or a total newbie, you'll find the best cross country skiing Ontario has to offer listed below.
Haliburton Highlands Nordic Trail & Ski Club Association
The Haliburton Highlands Nordic Trails Association grooms and maintains 3 ski areas, with trails totaling 36 Km of skiing. Each area offers a unique experience, with trails suitable for a wide range of abilities.  Current Conditions
Please note that HHNTA trail passes entitle you to ski at Glebe Park, Moosewoods, Twin Lakes. Passes from other local trail systems are not valid on HHNTA trails.
Day passes are available at all trail heads, on a self registration basis: cash only, exact change.
Glebe Park
13.5 Kms of skate and classic trails. Intermediate to Advanced terrain with lots of hills. 1.5 km lit loop for night skiing: lights come on at dusk, stay on until 9pm. Right in the Village of Haliburton on Fleming College Drive.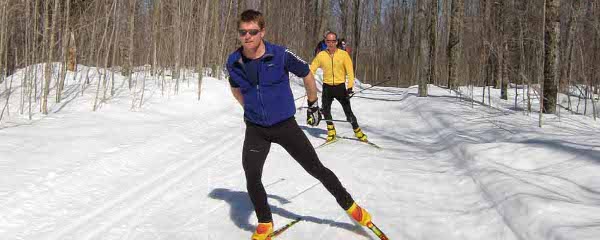 Moosewoods
12.5 Kms of skate and classic trails. Beginner to Intermediate terrain with rolling hills – on County Road #14 on the way to Eagle Lake.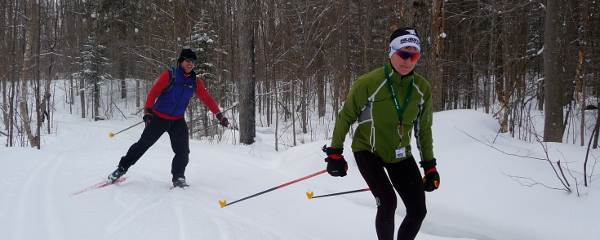 Twin Lakes
7.5 Kms of skate and classic trails. Intermediate terrain. Dog friendly – 12 Mile Lake Road off of Hwy #35 between Minden & Carnarvon.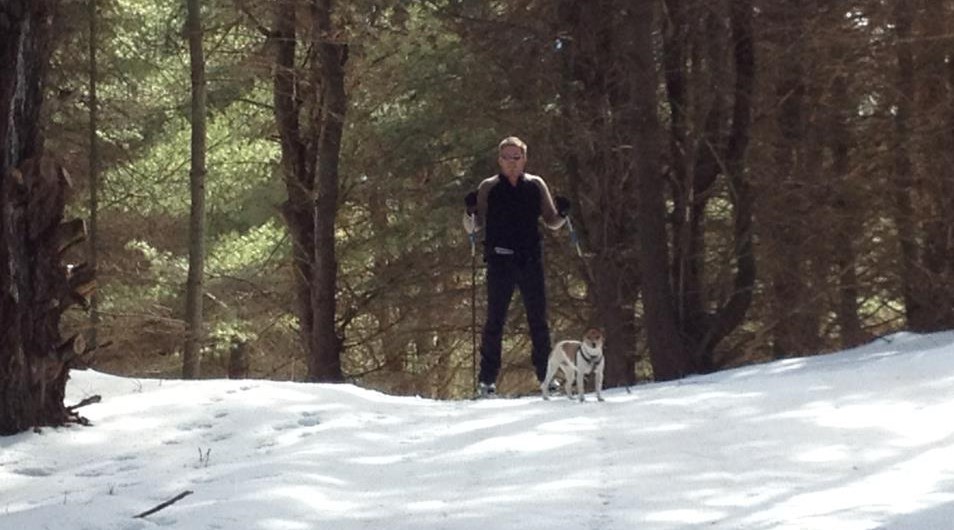 The Frost Centre – Ski Trails
Cliff-top lookouts and spectacular ice falls, catch a glimpse of wildlife such as moose, deer, owls, martens, grouse and much more.  Experience a winter wonderland of rugged Canadian Shield, majestic hardwood forests, old growth white pine, hemlock and yellow birch. Current Conditions
Ski trail passes  may be obtained at the Trails Office located directly across the road from the trailhead. On weekends, passes are available at the trailhead ticket booth. If you wish to ski outside of regular hours – no problem! Just register at the self-registration shelter at the trailhead. Be sure to bring correct change to place in the box.
Frost Centre - Ski & Snowshoe Trails
22 km of classic cross-country ski trails offer eight stacked loops ranging in length from 1.2 km to 6.5 km. Beginner to expert level trails, we have it all. Families can explore the Fox, Bunny, Bear, Beaver and Otterslide trails. If you are looking for a longer, more remote backcountry experience try the Deer trail! Several trails offer technical downhill sections for advanced skiers. For detailed trail descriptions, click here.
Facilities include two on-trail, self-serve warm-up cabins (equipped with wood stoves and breathtaking winter views), rentals, historic Towerman's cabin, washroom, outdoor toilets and parking. Our Trails office/store is open daily from 10 a.m. to 3 p.m. (November – April). The store stocks ski wax and hot chocolate!
What's better than gliding through the forest on a pair of skis? 18 Ontario Parks are open for the winter season offering cross-country ski trails. As soon as the snow starts to fly, trail conditions are updated on our Ski Report. The report includes trail and snow conditions, distances and amenities in each park and also links to local weather reports.
Cost is included in the price of a daily vehicle permit for all provincial parks.
Algonquin park Ski trails - Hwy 60
Algonquin Park has several trail networks offering over 110 kilometres of some of Ontario's best cross-country (nordic) skiing. Three trails are packed, groomed, and trackset on a regular basis whereas one wilderness ski trail is not groomed or trackset.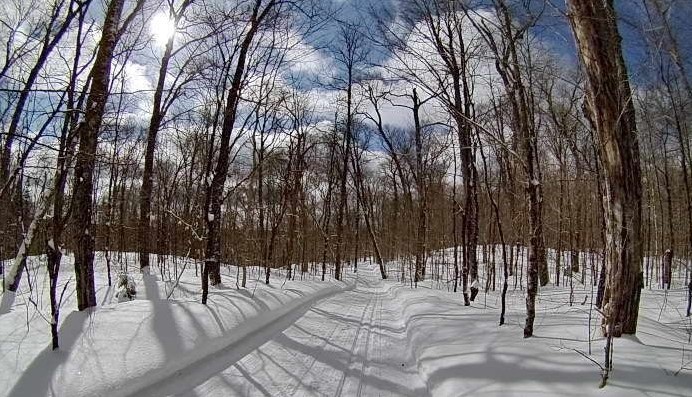 Silent Lake
More than 40 km of cross-country trails wind their way through hardwoods, cedar swamps, groves of White Birch and beech stands. The terrain is rugged, but ideal for family skiing. All four connecting loops start and finish at the day-use parking lot and are colour coded for easy recognition. Green Loop – 2.5 km, novice-moderate  Red Loop – 5 km, novice-moderate  Yellow Loop – 10 km, moderate  Blue Loop – 16.5 km, difficult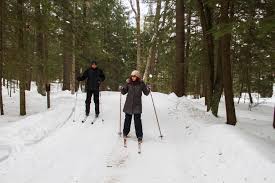 Some more can't miss skiing Options
Experience Ontario's snowy winter wonderland at its best by exploring the hundreds of kilometres of Nordic skiing trails in the area. Novice skiers can enjoy a relaxing experience on gently rolling trails through picturesque forests of pine and hardwood. Those looking for a challenge can combine exercise with breathtaking winter views on more challenging terrain.
Visit Algonquin Outfitters if you are looking for Cross Country Ski rentals at their Oxtongue Lake & Haliburton locations.
Algonquin Eco-Lodge Ski trails
An amazing trail system for cross country skiing! We have over 40km of groomed and wilderness Nordic ski trails inside Algonquin Park, Ontario, right from the front door of the EcoLodge. And after a day of cross country skiing on the track set ski trails what better way to relax than in our outdoor hot tub or sauna, overlooking the forests of Algonquin Park? We can safely say that we have the best wilderness cross country ski trails in southern Ontario.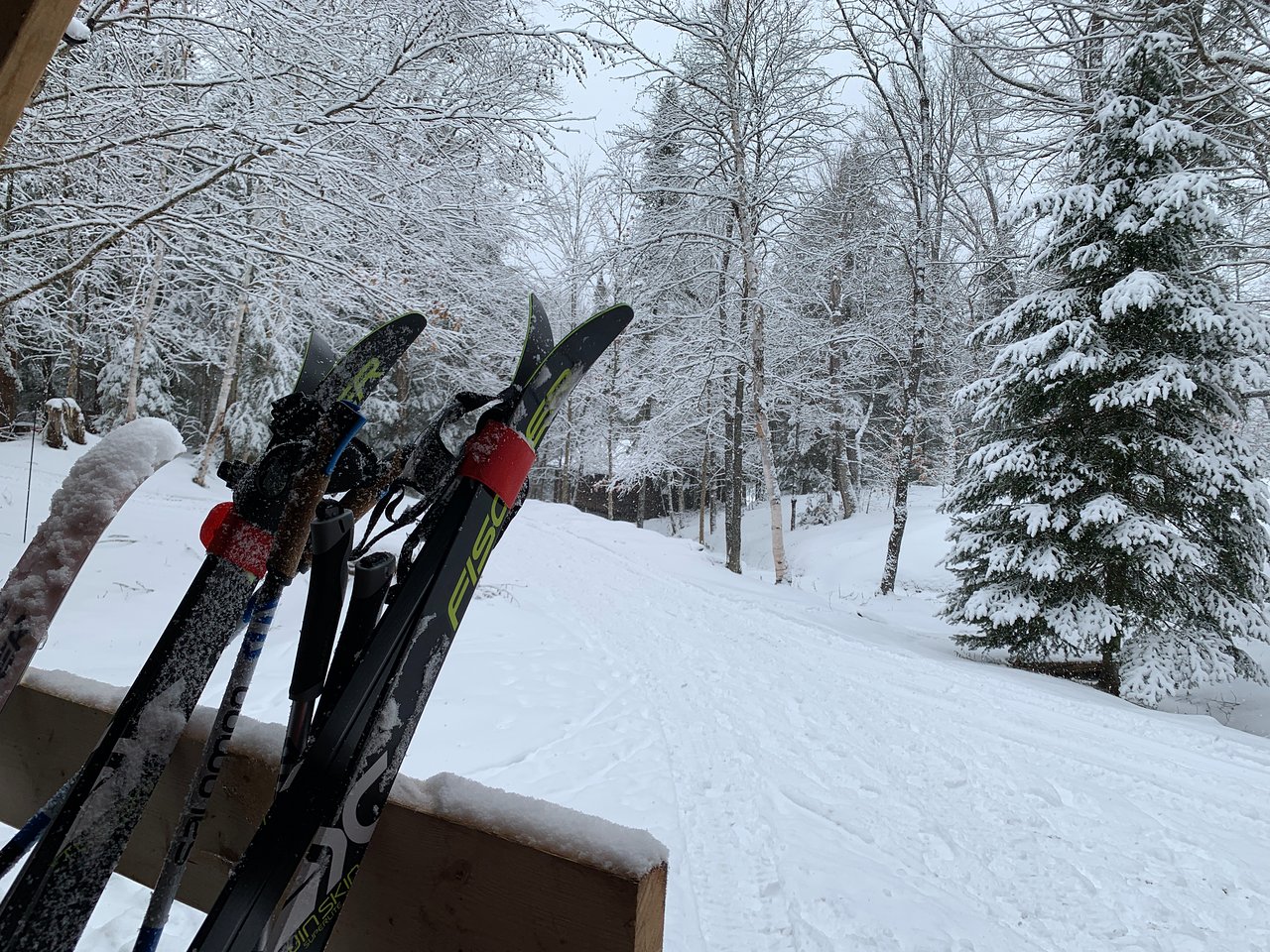 Blue Spruce Resort Ski Trails
We have over 14 km of groomed and track set ski trials on site. Two of our highlights are the Look Out Trail with its high vantage point overlooking Oxtongue and the Rookery Trail that skirts a Heron Rookery with the huge nests very visible from the shore of the pond.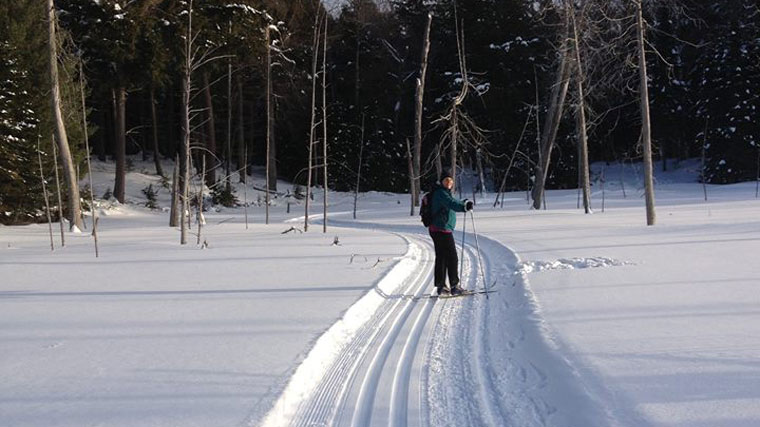 Pinestone Ski Trails
No other set of loops has such grand amenities as this location. For those of you seeking convenience and comfort to try the sport, this is the place.
Their 10 km of trails are groomed and well signed. Much of what you are skiing on is golf greens in the summer. This setting gives nice wide open views on a sunny day.  Going further east into the bush will find you more typical hilly, wooded ski trails and some solitude.
Trails are well-maintained, with classic cross-country ski tracks set and plenty of space for skate skiers to boot it.  Learn more about membership and trail passes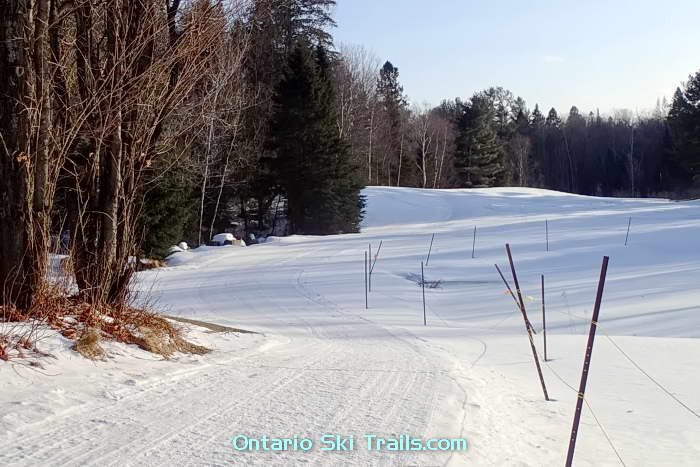 Yours Outdoors - Skiing Experiences
Canadians love to ski.  It is a quiet way of exploring the natural wonders of winter.  Come glide into winter with this half day introduction to cross country skiing.  If you are new to x-country skiing, we will teach you the basics in either skate or classic style and guide you along scenic trails that are suited to your level of ability. If you have skied before let us help you refine your technique and take you through some rugged and beautiful terrain. You will find your stride under the guidance of an expert ski instructor. The Haliburton Highlands is known as one of Ontario's best x-country ski destinations, and boasts more than 100 km of groomed nordic trails.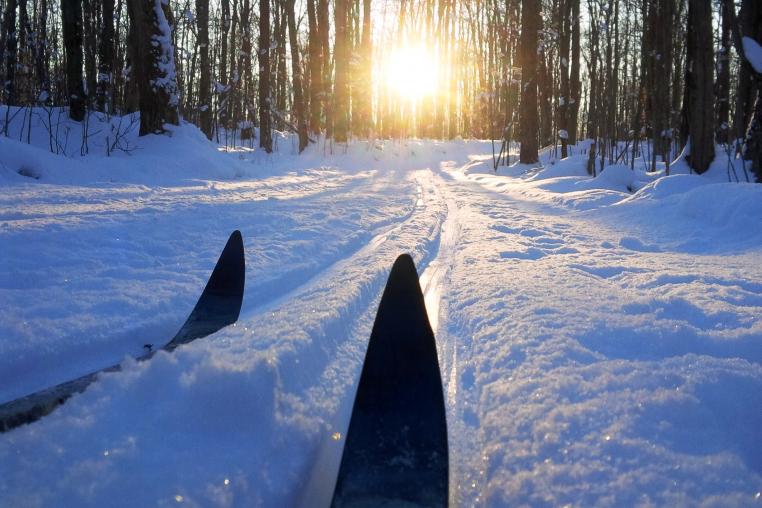 Select  
  to view adventure by category.