At 465 feet tall, the climb to my top is not for the faint of heart. My original purpose was to warn against fires, but today, thousands flock to me each fall to marvel at the fiery colours of the season that surround me. Where am I?
If the climb to the top doesn't take your breath away, we're pretty sure the view from the top will.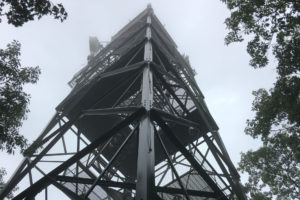 …I am Dorset Lookout Tower
Standing tall just north of the town of Dorset, the Dorset Lookout Tower offers 360-degree views over the Lake of Bays from its tree-top level observation deck. Brace yourself as you gaze at your destination – 132 metres up – before starting your trek to the top of this former fire lookout tower to soak in spectacular views.