Get out and discover the region – because even when the temperature drops, the opportunities for outdoor fun heat up
HALIBURTON LIFE — Winter in Haliburton is a magical experience. Yes, the cold can be biting, but if you find the right setting – that beautiful, natural spot where snow mounds up like fluffy pillows and drapes evergreens like Christmas garland – there is no season more beautiful.
It's places like that where you'll be inspired to get out and play in the fresh air, and there's nowhere better than Haliburton. The region is a natural playground for winter sports, ranging from the exhilaration of snowmobiling and downhill skiing to more peaceful explorations of winter-bound wilderness by snowshoe or dogsled.
Dress up warmly and head outside to live the season to the fullest when the mercury drops.
---
Dogsledding
Huskies have outsized personalities. "They love to run and get super excited when the opportunity to pull a sled presents itself," explains Tegan Legge, Manager of the Haliburton Forest and Wildlife Reserve, host of Haliburton's premier dogsledding experience. "You know what it's like when you come home at the end of the day and are greeted by your barking and tail-wagging dog, barely able to contain its excitement? Now imagine that, multiplied by 50 or 70 dogs at once! That's what it's like at the beginning of one of our sledding tours."
Sledders are just as excited to experience an iconic Canadian winter experience. At Haliburton Forest, you have a choice of an introductory tour of 45 minutes, a half-day tour and a full day tour. You don't need any prior experience, as ever tour begins with a tutorial that teaches the fundamentals. It isn't experience that determines what tour is best suited for an individual, but rather one's physical ability as sledding requires balance and – for rides of longer duration  –  some stamina, as braking is done by foot.
The half-day tour is the most popular: over the course of 1.5 hours, sledders cover 30 kms of hushed, snow-shrouded wilderness and pass through varied terrain that includes forest, hills, and frozen lakes. The full-day, which lasts as long as six hours and includes a trailside lunch, is best-suited for experienced riders.
Tours are led by an experience guide, but participants act as mushers of their own teams. Each two-person, stand-up sled is pulled by either four or six dogs, the number depending on trail conditions, the stature of the clients, and the individual dogs (not every dog is created equal  –  some are stronger than others).
"One thing that makes us special is that our dogs aren't tethered, but rather have a free roam enclosure and kennel which people get to tour after their rides," explains Legge. "Many of our 150 huskies are rescue dogs, so they are getting a fresh opportunity to do what they love."
A couple of hours winter jaunt, against a backdrop of snow-draped trees and iced-over lakes, is a chance to get to know these wonderful creatures.
"Dog-sledding is an addictive, amazing experience," says Legge. "It's even more fun than people can imagine."
---
Skiing
There are better known ski areas in Ontario, and certainly some with more swank, but there's arguably no better place to strap on a pair of downhill skis than Haliburton.
"Unlike other ski areas snow is rarely a problem here, so we're often open earlier and longer than other places," explains Chris Bishop, owner of Sir Sam's Ski/Ride, which has been welcoming winter adrenaline junkies for half a century (sirsams.com). "But of course it's not just the frequency of snowfall that entices people: we also offer challenging elevations, great facilities, and breathtaking views."
Sir Sam's boasts 14 groomed runs – the longest being 2,500 feet – ensuring there's a challenge for every skill level, from novice to the most slope-hardened of skiers. "Skiing can be daunting for first-timers, but it doesn't have to be," says Bishop. "With instruction, the right equipment, and a suitable slope, even someone who doesn't know one end of a pole from another can have a good time. I'd recommend inexperienced skiers take advantage of our ski school to lay the foundation of good skills."
Beyond the ski school, amenities at Sir Sam's include a fully-licensed pub, a 1,100-foot long surface lift to ensure you ride to the top of the hill in style, and a permanent ski-cross/snowboard cross course that is so renowned in that Sir Sam's hosted the 2019 opener of the Ontario Snowboard Speed Series, which saw over 100 snowboard-cross and ski-cross racers descend on Haliburton from all over the province.
If a slower ride that offers a full-body workout is more your thing, then Sir Sam's also offers cross-country ski trails. Indeed, Haliburton has an embarrassment of riches for those who want to strap on skis to explore the wilderness, with over two dozen trails ranging in length from 1.2 to 6.5 kilometres.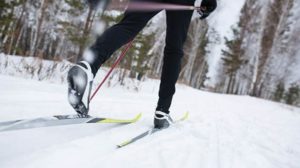 "There's no better way to enjoy winter than on skis," says Bishop. "Skiing and snow are synonymous with one another, and whether you're racing down a hill or going through a serene forest it's just plain fun!"
---
Snowmobiling
With plenty of white stuff and almost 400 kilometres of groomed trails to relish, there's no place better in Ontario to snowmobile or ATV. And the range of trail options ensures there's a little something for everyone, from adrenaline-filled wilderness excursions ideal for avid snowmobilers to more sedate trails for recreational riders.
"We have an unrivalled network of trails, and our trails are among the first open anywhere in Ontario, which is something we pride ourselves in," explains David Lloyd, President of the Haliburton County Snowmobilers Association (HCSA.ca), which for more than 30 years has been maintaining these trails on behalf of riders from all over the province and into the United States.
This network of trails is among the most important in Ontario, forming a central node that tie together a wider network of trails that extend to all points of the compass and representing a link in the extremely-popular RAP (Round Algonquin Park) tour that circles Algonquin Park.
Because the Haliburton Forest is located at the top of the Algonquin Dome, which boasts winter conditions unmatched in southern Ontario, an averaging sledding season lasts 16 weeks.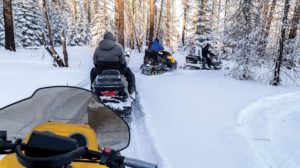 In addition to those trails managed by the Haliburton County Snowmobile Association, an additional 300 kilometres of trails can be found in the privately-owned Haliburton Forest, 80,000 acres of pristine wilderness.  "Snowmobilers make us busier in the winter than in the summer," explains Tegan Legge, the Haliburton Forest's general manager for tourism and recreation (haliburtonforest.com). "It's kind of like going to a ski resort because we have a base camp where you get your pass, a restaurant that's like the chalet, and accommodations on-site."
Haliburton Forest offers a variety of loops that allow riders to choose their own adventure for the day, and have trails for both novice and experienced individuals. The Forest limits the number of passes to only about 100 snowmobilers per day, meaning riders will rarely see another snowmobile – enhancing a sense of privacy in the snow-hushed wilderness.
---
Winter ATVing
The trails lacing through snow-shrouded Haliburton have always been the exclusive domain of snowmobilers, but no longer. Now, ATV riders have the opportunity to experience the beauty and serenity of winter on a few select trails in the Dorset area as well.
"Riding in the winter is a whole new and exciting experience," explains Eric Christensen, President of the Haliburton ATV Association (HATVA). "Since ATVs don't operate well in deep snow, the trails have to be plowed and groomed by the Lake of Bays ATV Club, a group that operates under our umbrella."
Since the trails cross and even share snowmobile routes in several places, and as ATVs chew up the smooth surfaces sledders require, winter ATVing season is a brief one  –  before snowmobile season opens in December and after it ends, typically in March (haliburtonatv.com).
---
Snowshoeing
Snowshoeing is about as Canadian as hockey and poutine, and while skis are the flashy way to get around in the snow, snowshoes take a more methodical, functional approach. Thanks to them, beautiful winter landscapes away from the ski slopes and deep in the wilderness that makes Haliburton so beloved are open up to walkers, at a pace where you can take in nature's details.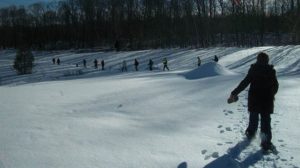 Even if you've never strapped on a pair of snowshoes, you're probably familiar with its allure – walking effortlessly across a sea of pristine new-fallen snow, through wilderness transformed into a soft white wonderland, surrounded by a hush so complete who can almost hear the snowflakes dancing on the breeze as they drift down from grey skies above.
Snowshoeing has seen huge growth in popularity over the last decade, as people begin to discover it's a great way to keep active as a cross-training activity, a fun family outing for all ages and skill levels, and a way to discover wilderness in an exciting new light. If you don't already love winter, snowshoeing might just be the means by which you fall in love with the season.
"If you can walk, you can snowshoe – just put your right foot in front of your left," says Heather Reid, operations manager at Abbey Gardens and herself a passionate snowshoer. "It's a fun activity, a great workout, and is accessible for people of all athletic abilities. If you go in a group, the fitter people can walk ahead to break trails."
Haliburton is blessed with a wealth of marked snowshoe or mixed-use trails, but perhaps the most popular are those at Abbey Gardens (abbeygardens.ca). "We have five kilometres of trails, passing through a mixture of woods that provide shelter from the wind and open fields with warming sunlight, all marked and free of charge," explains Reid. "We rent snowshoes at $10 per pair, and we can provide a guide at extra cost as well."
For a truly unique adventure, join Abbey Gardens for one of their Full Moon Snowshoes, which sees tours head out into woods illuminated by the pale blue light of the moon, and ending with pizza and beer. It doesn't get better.
by Andrew Hind HaliburtonLife