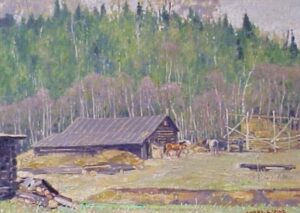 With just about all activities curtailed by COVID-19, there is one thing people can still do outside while practicing social distancing – and that's the Lapine Lap in Minden.  The Lapine Lap is a scavenger hunt for murals that are scattered around Minden featuring paintings by Andre Lapine.
Normally you could go into the Minden Hills Cultural Centre to visit the real Lapine paintings, but the cultural centre is closed right now. For future reference, the Cultural Centre houses more than 100 of Lapine's works. Many paintings are depictions of Minden, and there are some familiar sights of the community seen through the eyes of an artist in the early 1900s.
Tour Information
How does a little town such as Minden, Ontario, become associated with a renowned Russian-born, Canadian artist? It could be said it took an unfortunate car accident – or a kind-hearted man, who had some understanding of Canadian art. Whatever the case, join us on the Lapine Lap; a glimpse into the life and times of Andre Lapine, which spans continents, the heights of Toronto's art society, and quiet back roads. It is full of life and friendly characters every step of the way.
What You'll See on the Tour
Haytime is an oil on canvas painting depicting  the Hamilton Farm along South Lake Road,  just outside of Minden. You may be wondering, how did an internationally renowned artist begin painting fields in Minden? Our story is just getting … Read more
Horses Hauling Logs is a large oil painting, and is the best known work by Andre Lapine. The image was created based on a visit to Quebec c.1930. Andre Lapine had come to Canada from Holland in 1905, shortly after marrying longtime beau Ger… Read more
The Team is aptly named, as the two horses were Joe and Moe from Billy Hamilton's farm in Minden,  where Andre Lapine often stayed. These two horses appear in many of Lapine's paintings. It is likely that Andre Lapine would not have se… Read more
Forest Interior is the closest example of Lapine's use of the Impressionistic style. Lapine was known for dabbling in a variety of styles, and excelling in whatever form he attempted. Malloney's Art Gallery in Toronto provides us with det… Read more
Mill Scene is a local image of Minden portrayed by Andre Lapine. Why was Lapine fascinated by horses? There are multiple reasons! Lapine emerged as an artist at the heigh of the Industrial Revolution. This was a time of major societal shift… Read more
Cows in Autumn is a traditional composition of a fall scene. Lapine painted a number of these exact painting, each in a different season. Many of these painting are housed in the Agnes Jamieson Gallery at the Minden Hills Cultural Centre…. Read more