When the Haliburton Highlands are over 3,000 km away, and you want to reunite with your sisters at Haliburton School of Art + Design, you get creative with your travel plans. Donna Hackborn arrived at the Stanhope Airport in the two-seater, single engine RV-6 home kit airplane that her husband Marv built. A pilot since he was in his forties, Marv had always dreamed of flying a plane he'd built himself. When he retired 15 years ago, he did just that. Construction took four years, and he's now flown into 371 airports. Marv has also realized his other dream of becoming a flying vagabond. The plane is more than a mode of transportation – it's his home. He recently purchased an electric unicycle because it's compact enough to fit in the plane and, at 78 years of age, taught himself how to ride it so he can get around once he lands.
In the ten years they've known each other Donna and Marv have flown together from Alberta to Cape Breton Island, and as far south as the Baja Peninsula.
The reason for the trip to Haliburton was that Donna's sisters gave her a unique birthday gift. They had been attending Haliburton School of Art + Design's summer school for years and wanted her to join them. A gift certificate for a course was purchased, and travel plans made. She loved her week in Holly Dean's Painting – Layered Mixed Media course and came away with some unexpected insight.
"I thought I was coming to learn a technique that I could apply to my sculptures at home, but it was more of a discovery of the kind of artist and person I am. I always thought I was kind of open and free and willing to explore. I'm actually very cautious. It's not easy for me to let go – I had to learn that this week. My challenge this year is to let go and not be concerned about the outcome. Fill the page."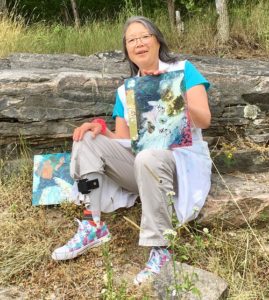 Flying over 3,000 km in a single-engine aircraft calls for a certain degree of courage. Personal reflection also calls for a certain degree of courage and, for Donna, this was her ultimate takeaway from her time at Haliburton School of Art + Design.