When it gets hot and you can't take it anymore we all crave something cool to help keep us sane. Here are a couple of Minden Village "hot spots" where you can get some cool desserts this summer!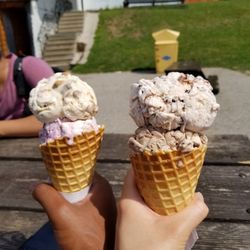 Kawartha Dairy, open daily 9 am – 10 pm, 12750 Hwy 35, Minden – Retail walk-up window at a long-running, family-owned dairy farm known for its ice cream.
Matt_Lester2376 – Best Ice Cream in the WORLD   Being going here for many, many years and it never disappoints! There really is a difference with their ice cream. You have to taste it to see for yourself. Everyone should taste the ice cream at Kawartha Dairy at least once in their lifetime.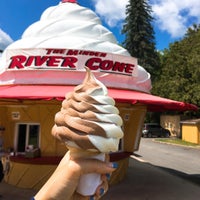 Minden River Cone, open daily 11 am – 7 pm, 119 Bobcaygeon Road, Minden – Soft serve ice cream, milkshakes….
LorraineB1944 – Great ice cream and service at Minden Rivercone We went on a hot day and even though it was quite busy the experience was great. A couple of milkshakes, sundae and Skor mixed ice cream was delicious. Lots of places to sit, play structure with swings for younger kids and alongside river.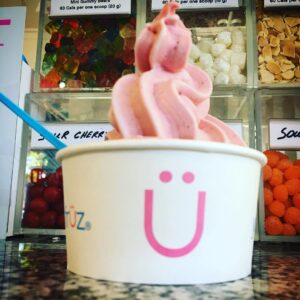 Up River Trading Company, open daily till 5:30 pm except Sunday which they close at 4 pm, 106 Bobcaygeon Road, Minden – Enjoy an amazing treat. Yogen Früz combines delicious and nutritious frozen yogurt and fresh fruit, which allows you to customize your own, flavour combination.
BigBobLake – 
Shopping and Sweets!
Always find a special purchase and the Yogenfruz is delicious! Shakes too! Just a great spot on Main Street with Outdoor Patio