"FALL HOOK, LINE AND SINKER FOR ICE FISHING"
Incredible lakes. Scenic views. Time spent with friends and family. A variety of species of fish to catch including our very own stocked 'Haliburton Gold Lake Trout' – a glacial relict – all within a short drive from the Greater Toronto and Ottawa areas. These are just a few reasons why you should try this authentically Canadian experience.
WHERE SHOULD I ICE FISH ON A LAKE?
Do your research and find out about ice thickness and safety. You can speak with your local bait shop & experience providers or Ministry of Natural Resources for this information.  Please, always ensure the ice is safe before embarking on your adventures.
The best first place to start ice fishing on a new lake during early ice season is the largest weed bed on the lake. Ice anglers are also friendly and helpful, so ask for advice.
WHEN ICE FISHING FOR THE FIRST TIME, WHAT IS THE BEST LURE/BAIT TO TRY?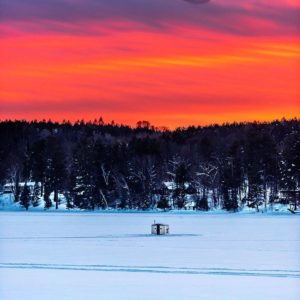 It's always best to stop in the local bait shop and ask what the fish have been biting. Some of the ice fishing basics includes a small jig, preferably tungsten and a few maggots. If another angler is catching fish and you are struggling, take some time to watch and learn.
LIVE BAIT OR ARTIFICIAL LURES?
Generally, live bait will almost always outperform artificial bait. Start with a few maggots. Fine tune the number of maggots from one to a full hook depending on what the fish prefer. Remember that you do not want your maggots to freeze, so consider keeping them in a tightly closed container in a pack or close to your body so they do not freeze.
WHAT ARE SOME SIGNS ABOVE THE ICE THAT YOU NOTICE THAT MIGHT HELP TO KNOW THERE ARE FISH BELOW?
If the ice is covered in snow, look for holes that have already been created. These probably had some good activity already. In a shanty town of fished holes (group of shanties close together) check the ones that look like they have been fished the most.
WHICH IS BEST, A POWER AUGER OR A HAND AUGER?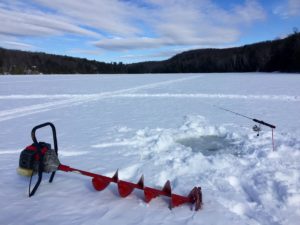 Both devices work well. A hand auger is nice because it's a little quieter, so you are less likely to spook the fish.
WHAT ICE FISHING TECHNIQUE DO YOU RECOMMEND A NOVICE TRY FIRST?
The best thing about ice fishing is the fish will always tell you what they want. You just need to pay attention. Always check fishing reports or forums for current information. There is nothing more simple or successful than jigging from the bottom up until you find where the fish are biting. Jig for a while on the bottom. If you don't get a bit, pull your bait/lure up a foot and jig there. Keep doing this until you find some activity. Once you find the zone in which they are biting, focus on that area each time you drop your bait. Learn more about other ice fishing techniques.
IF I AM NOT ABLE TO PURCHASE A NEW ROD, WHICH OF MY CURRENT RODS COULD I USE?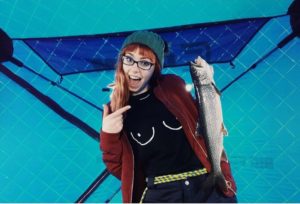 Ice fishing rods use float bobbers or spring bobbers for strike indicators. The floats used in ice fishing are much smaller than what is used in open water fishing. You can always find fishing rod and reel combos at the local bait store. Worst case scenario is to borrow one from a fellow fisherman.