It's amazing the number of unique shops, boutiques, and studios that are hidden throughout the Haliburton Highlands.  As well, make sure to check out the main streets of the villages like Dorset, Haliburton, Minden & Wilberfocre.  From authentic and artistic to fun and unusual or upscale and stylish, if you're partial to all things shopping, you'll find that we offer a little something for everyone.
Nurture your mind, body and spirit at a spa while taking in the awe-inspiring natural beauty of the Haliburton Highlands. Whether it's for a day, a weekend or longer, we have the spa, yoga & wellness experience you need to unwind and reconnect.
 Select  
  to view wellness by category.
The Haliburton Highlands has some great off-the-beaten path places to shop. From quaint downtown shops to nearly world-famous general stores, we are is a shopper's delight!  Below is a list of unique shops and stores that offer shopping online from the comfort of your home.
Abbey Gardens
The vision for Abbey Gardens Community Trust is to become a world-renowned centre for community-driven sustainable innovation, focusing the collective energy and talents of those who live, work and play in Haliburton County on the creation of a healthier and more sustainable future for all.

Algonquin Outfitters
Algonquin Outfitters' family of retail stores in Algonquin Park, Muskoka and Haliburton Highlands has a wide range of retail equipment to fuel your adventure, including technical clothing, outerwear and casual wear, road and mountain bikes, canoes, kayaks, camping gear, wakeboards, waterskis and much more.
Several of our stores are open all year round because adventure isn't just a summer activity; get out and enjoy all four seasons! You'll find great winter-fun gear at our Haliburton and Oxtongue Lake locations with equipment like snowboards, Alpine and cross-country skis, as well as snowshoes. Let our experienced and knowledgeable staff help outfit your adventure in the great outdoors today!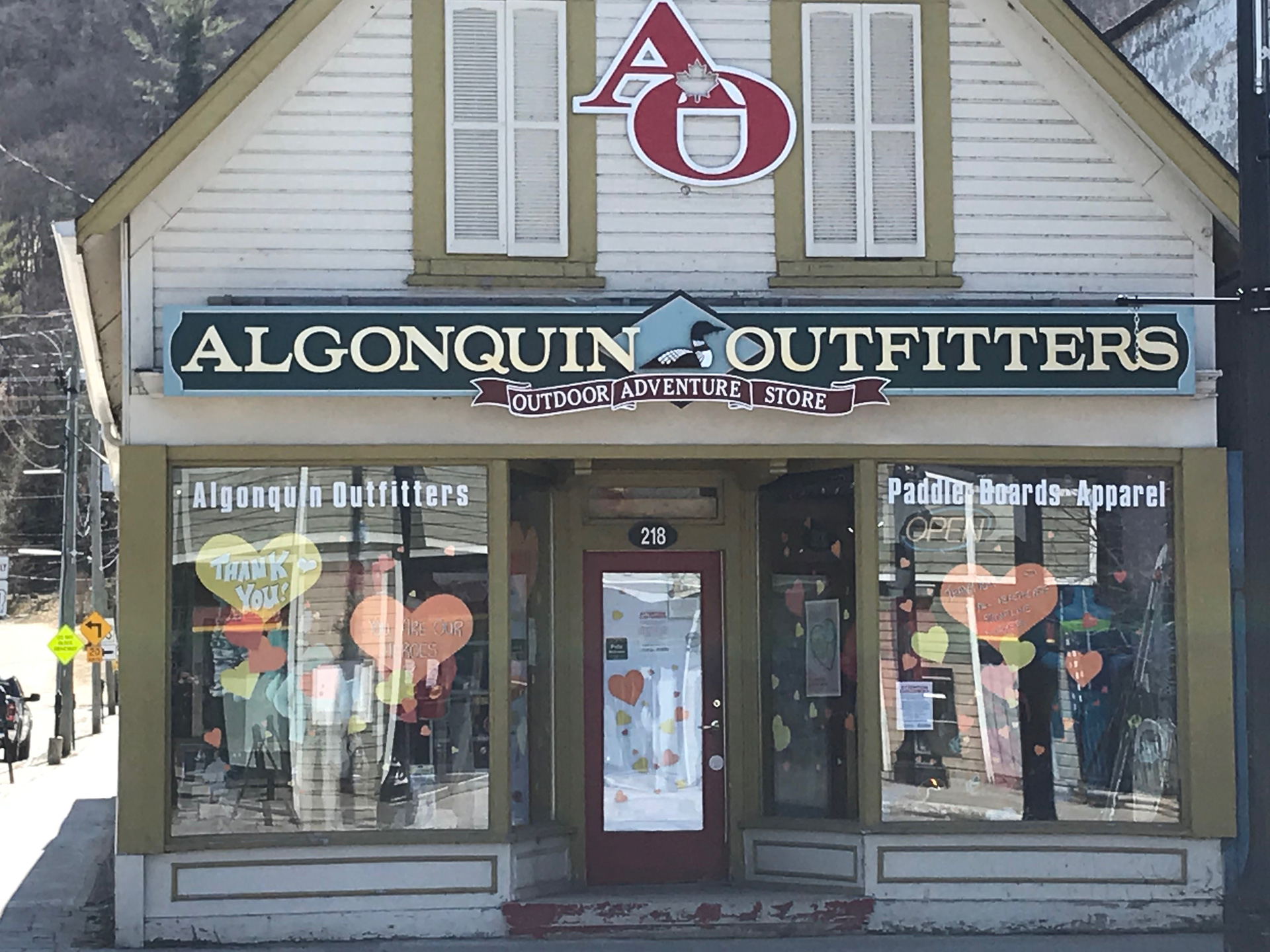 Cindys Clothing Store
Cindys is a Womens Clothing Store located in the Heart of Haliburton. We carry a large range of styles and sizes. Find everything from Jewellery to Bathing suits. Come and try on that perfect dress or mix and match with our assortment of Shirts and Pants.
We have a few different lines in our store which include Casa Donna, Lavena, DKR & Co. Come and check out our new Lines – Orange and Red Coral – Orange is a Bamboo Clothing Line and Red Coral is a Larger Womens Clothing Line.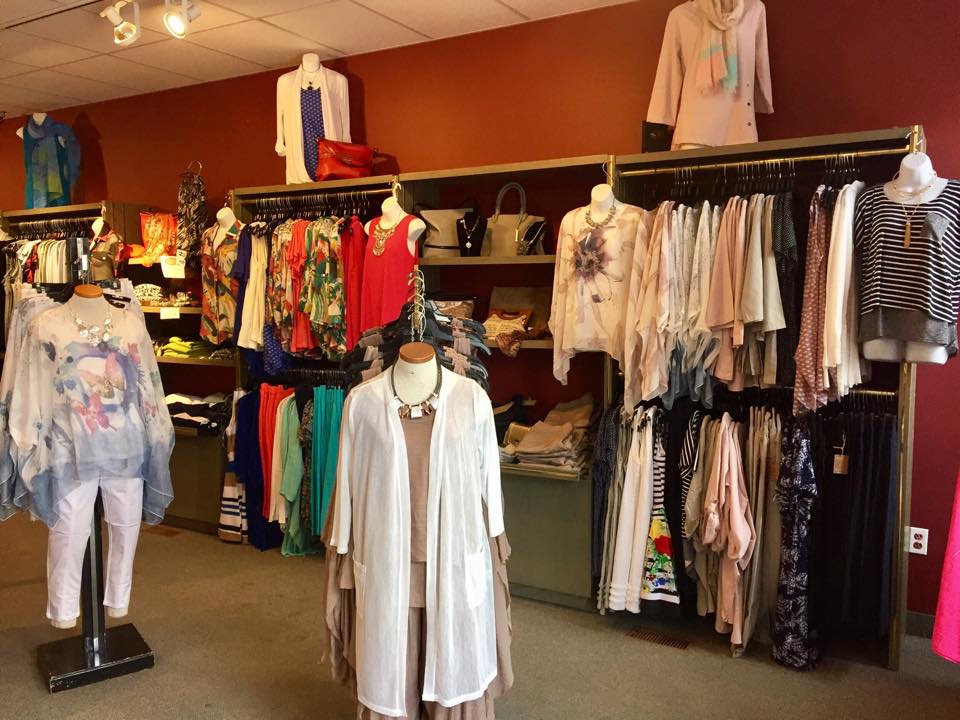 Haliburton Forest Paddle Shop
This Staple of Haliburton Forest has spent almost a decade providing avid adventurers with hundreds of paddles.
Along with its large selection of wood paddles, the shop will include custom paddle making, scheduled shop tours and custom laser engraving.
The Paddles represents not only an image of quintessential Canadianism, but also symbolizes the sustainable experiences offered at Haliburton Forest.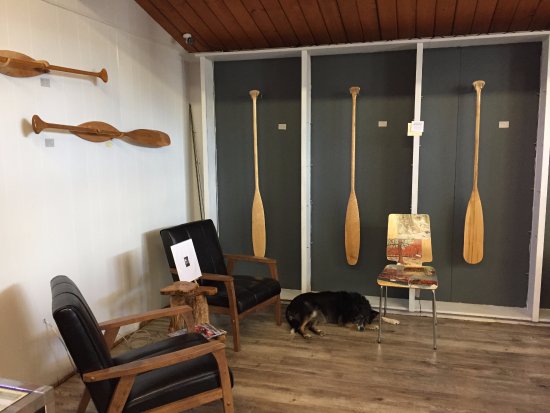 Lockside Trading Co
Offering this interior design service Free of charge when purchasing furniture, lighting, or window treatments. To get started Simply contact Lockside and email your floorplan, pictures, wish list, wants, needs and even your Pinterest board and they will take care of the rest.
Dedicated on supporting Canadians by offering Canadian Made products at great pricing and superior quality. Specializing in custom Canadian made furniture, the team at Lockside knows the importance of keeping it local, supporting our community, and fellow Canadians.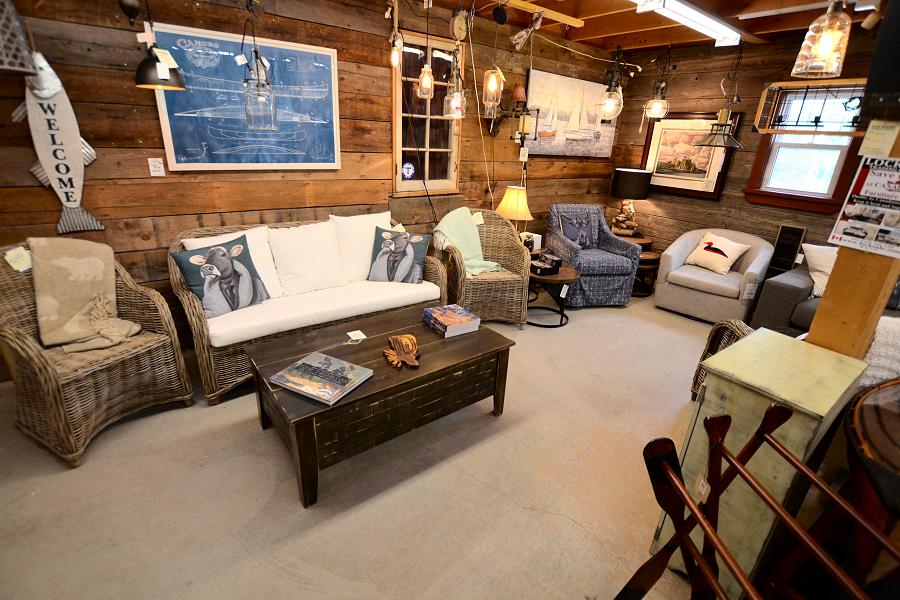 Master's Book Store
With a large mainstream inventory that includes bestsellers, children's books, cookbooks, hobby, home improvement and gardening books, stationery, cards, maps and gifts, Master's truly does have something for everyone.
In addition, we have a generous supply of Christian books, bibles and gifts that brings in customers from far and near.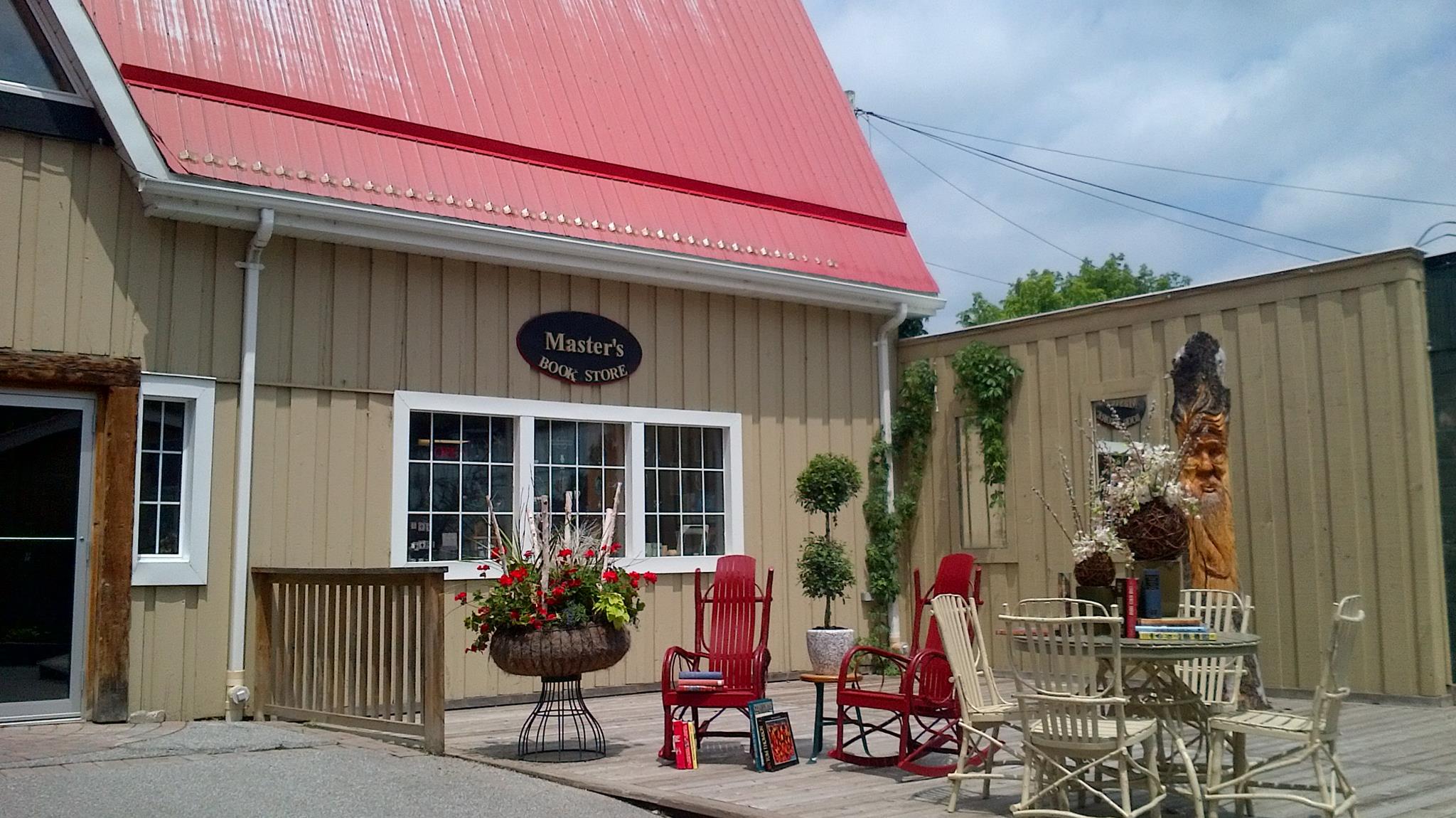 Rails End Gallery
Centrally located in Haliburton Village's vintage rail station, we showcase work by Canadian artists and artisans in our gallery shop. The space itself was the waiting area and ticket office of the Grand Trunk Haliburton Station circa 1900 and many of the textures and design features are still there for visitors to appreciate.  
We present a few samples here from the collection, but you really must visit when you are in Haliburton County. All works are sold on consignment with local Artist members.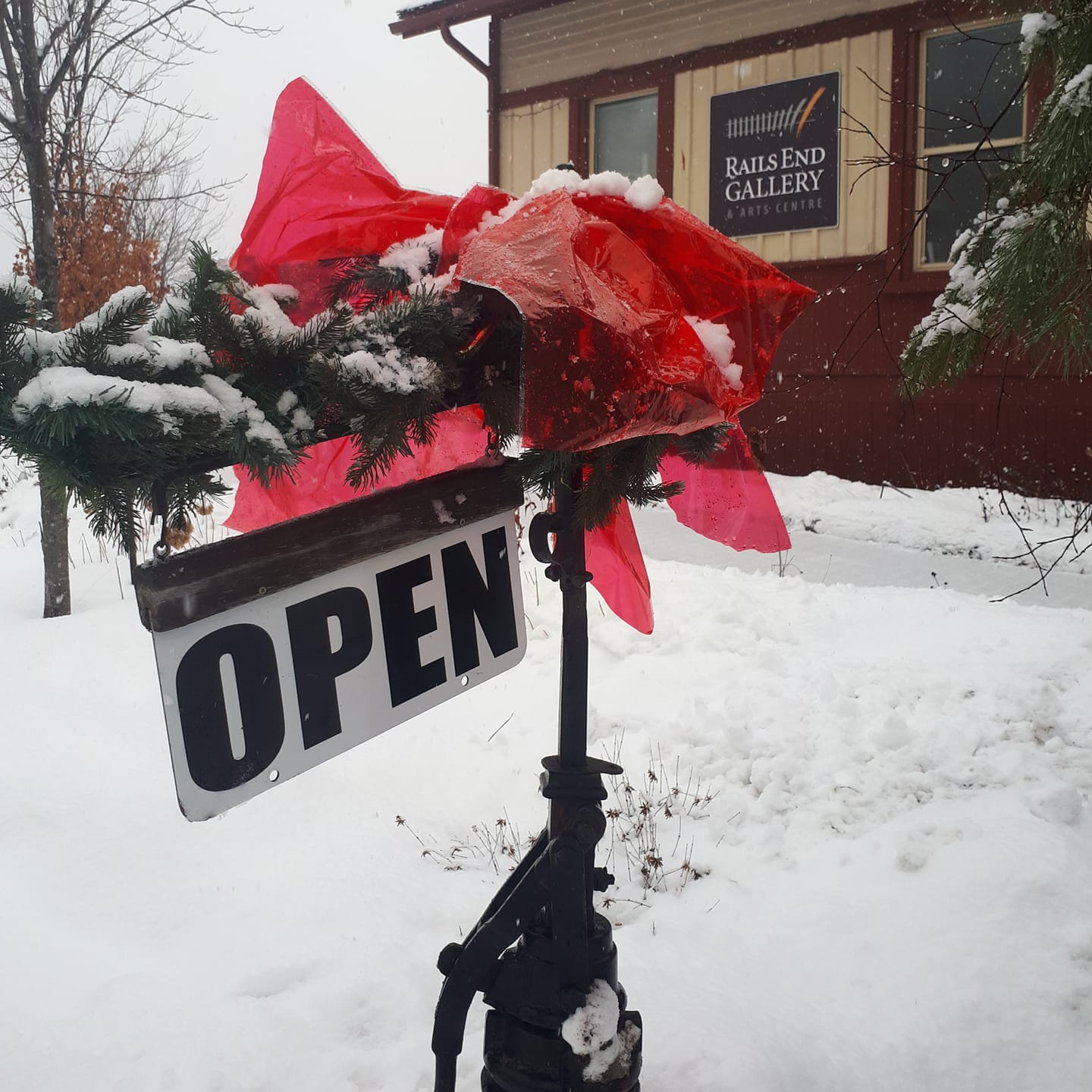 Russell Red Records
An independent vinyl record shop offering new and quality used records, plus new turntables, stereo receivers, speakers, accessories, and more.
'RRR' has a huge selection and if they don't have it, ask and they will get it for you!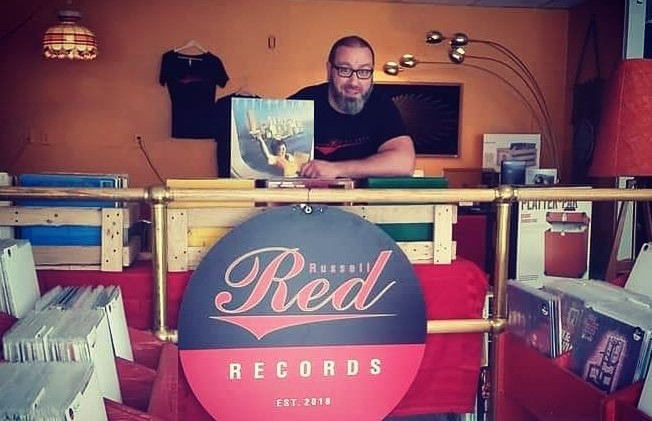 ShopCloseBuy
ShopCloseBuy is a shared, Community eCommerce and Marketing Platform developed specifically for our small and rural community. Visit our many shops here as a "Shop Local" alternative to other eCommerce platforms that siphon local resources out of the community.
The site is designed to give vendors the option to offer their goods as an auction item, a buy now item, a pre-order item or a promotional listing. Also check our Facebook page or Instagram page.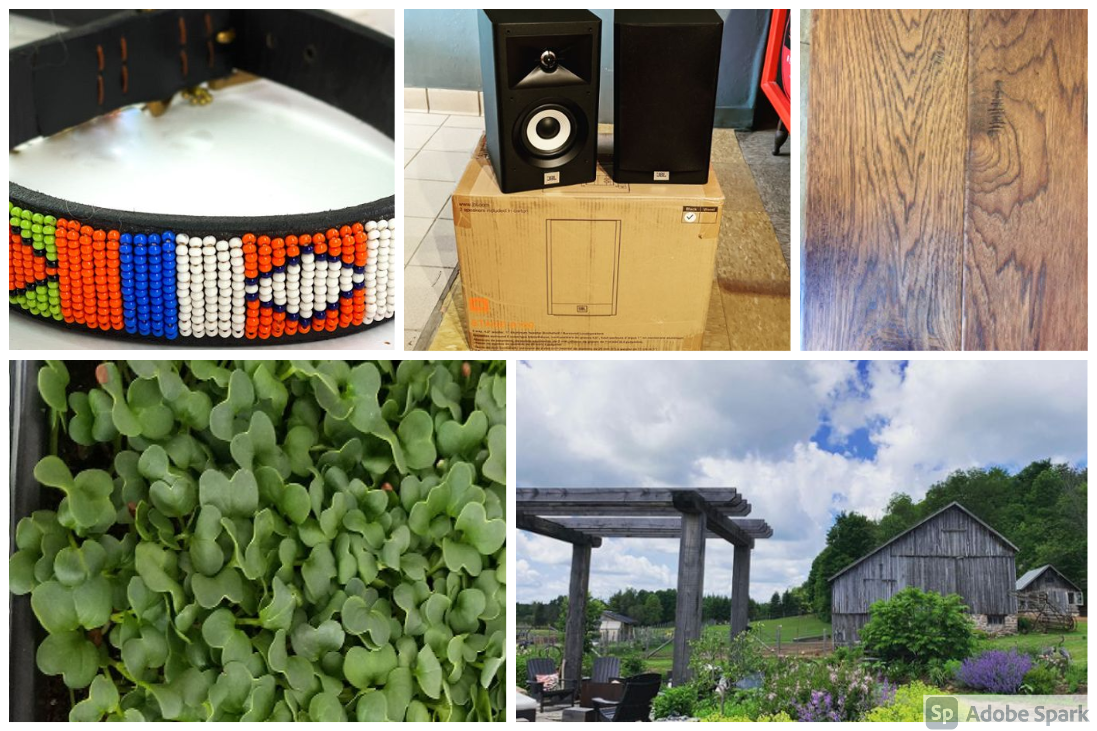 TreeHouse Soap
Treehouse Soap started from a need for quality soap with natural ingredients that was safe for your skin and the environment.  They are unique , from vegan to spabased scents and even soaps made from beer! Yes your heard that right, even the men in your family will havea reason to smell great!
100% Canadian Made – Haliburton, Ontario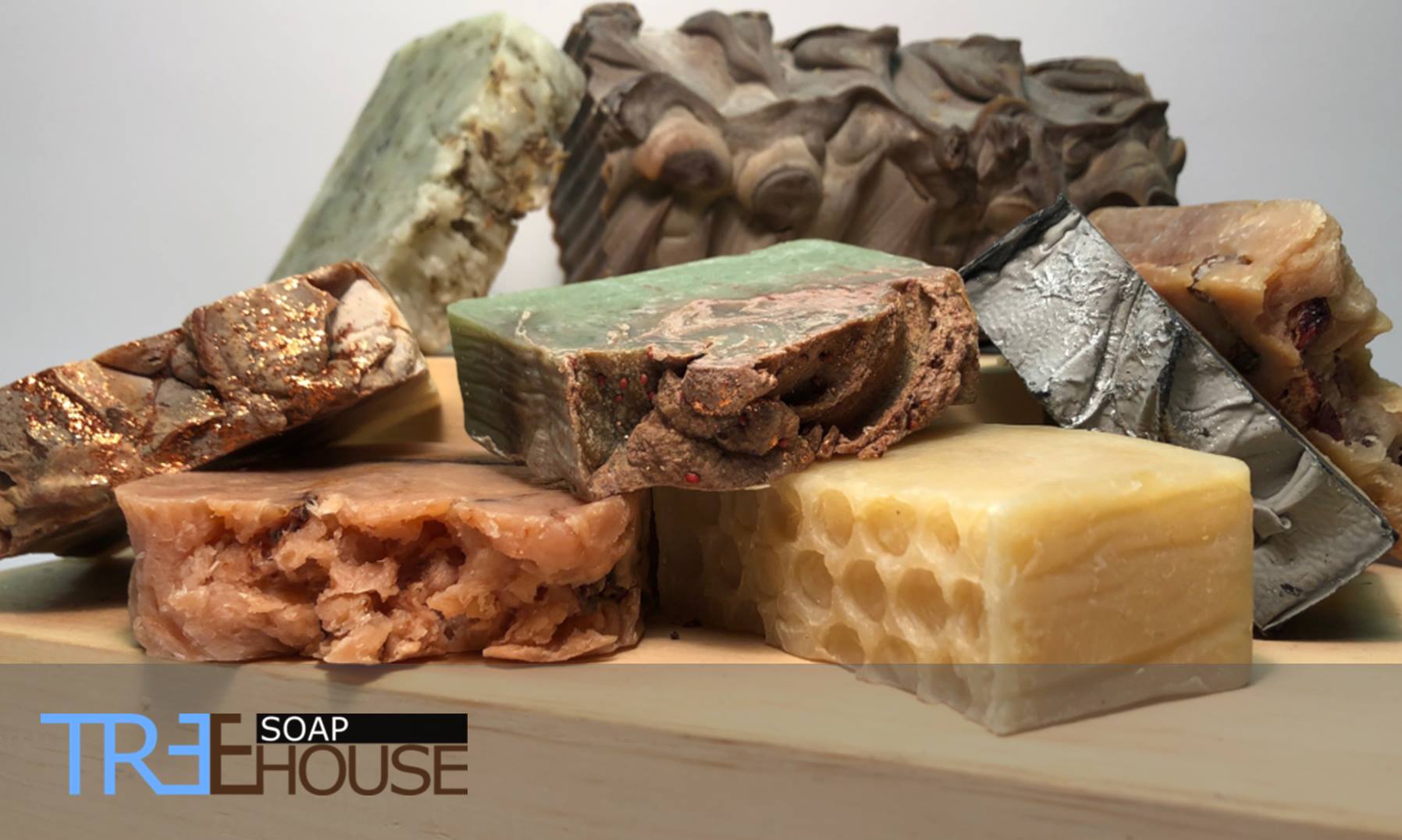 Up River Trading
A premier shopping destination with unique locations in Minden and Haliburton. Up River is more than shopping for amazing gifts, art and cottage accessories.The upscale yet affordable merchandise is thoughtfully curated through our extensive network of artists, craft artisans and suppliers to constantly offer an ever-changing collection of gifts, art, fashions and cottage accessories.
Also have some fun with our custom printing by selecting from our professionally designed templates and "personalizing" your message on T-shirts, hoodies, pillows etc. with our state of the art fabric printing system.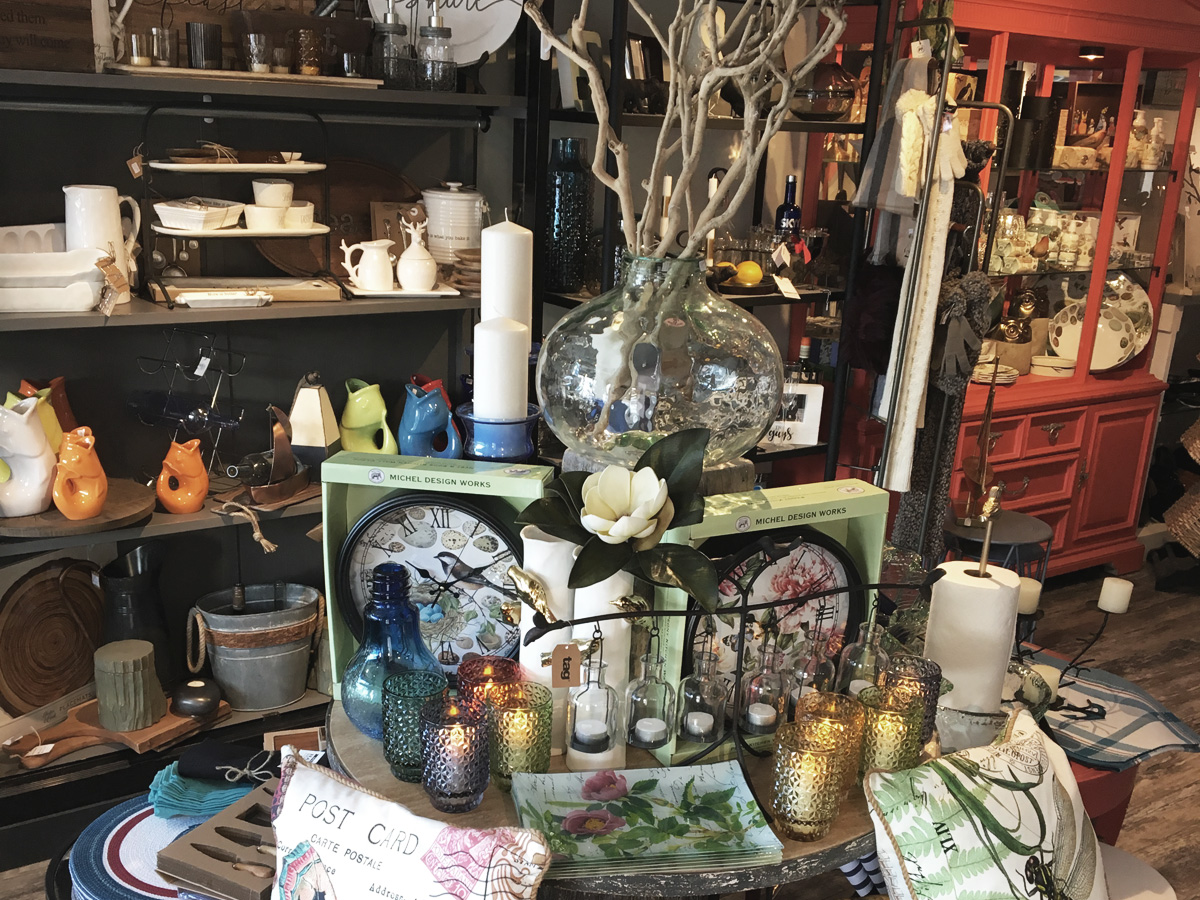 Wind in the Willows Spa & Boutique
Whatever the occasion you can be assured pampering will be a big part of your time spent with us. When it's time to return to the "real" world you can be sure you will look great and feel wonderful.
We offer many unique products to enhance your Wind in the Willow's experience and you can shop in-store or on our online boutique.  Find the perfect gift for that someone special from our great selection of Jewelry, Scarves, Handbags, Gift Baskets and so much more.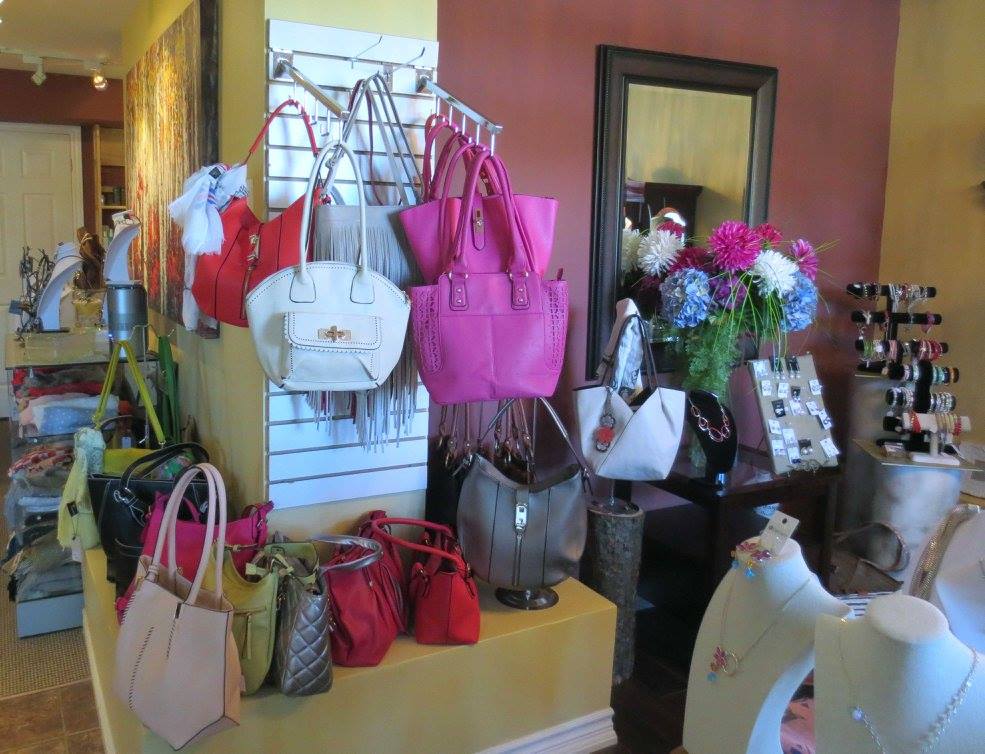 Shopping Local Artists Online
The Haliburton Highlands has the best Artist community in Central Ontario, you can find Potters, Painters, Jewelry Makers, Wood Workers and more being inspired by the natural beauty of the area.   Below you can find the unique studios and artists that offer their wares online so you can find the perfect item or gift from the comfort of your home.
Artech glass blowing studios
Visit an authentic glassblowing studio in the beautiful Haliburton Highlands. Our beautiful boutique and food hub is located in the Old United Church in ghost town Tory Hill, ON. Plan a day trip, grab a coffee while passing through or pick up a handmade gift from our gallery for that someone special.
Want to get behind the scenes of a working studio complete with a demonstration? Sign up for one of our guided tours or a glassblowing class and make your own keepsake. We offer half-day, full-day and weekend workshops. Drop-ins welcome too!
We produce great upcycled glass tableware and handmade barware. We are known for our recycled beer glasses, a repurposed beer bottle that still holds a full beer!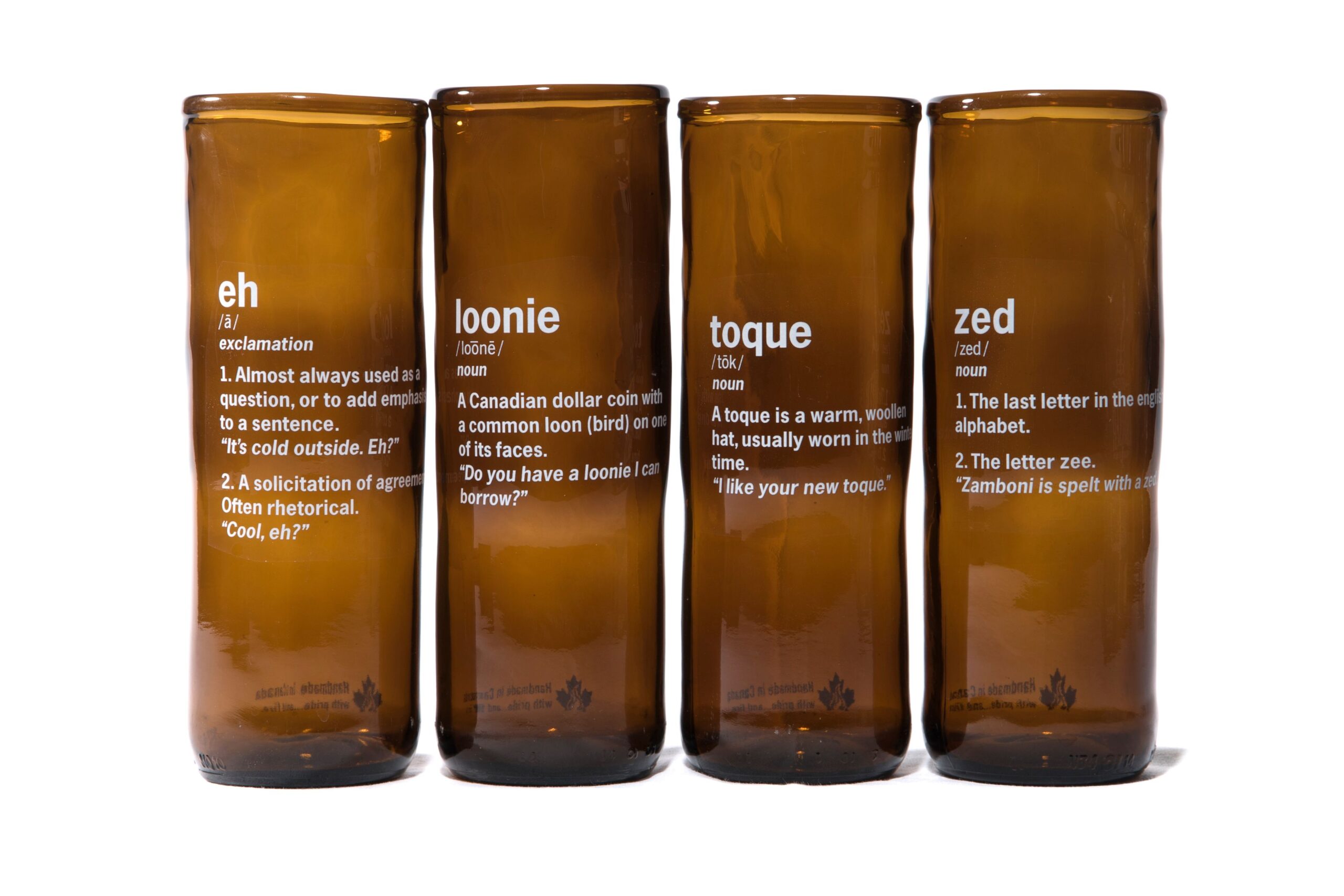 Brush and Pen
Laurie O'Reilly – I am a painter, a story teller, a photographer, and a mixed media artist. My newer work is about process as well as content, requiring a degree of 'construction' to complete each piece. As an artist I have photomontaged, cut and pasted my work, I have created paper clay supports, sewn into painted canvas, reassembled pieces and found objects into new statements, and layered, glued and screwed, onto wooden panels.
Dave Skinner – I have self-published three novels in the Warriors, Heroes, and Demons series, and one in a new series called Wizard's Spawn.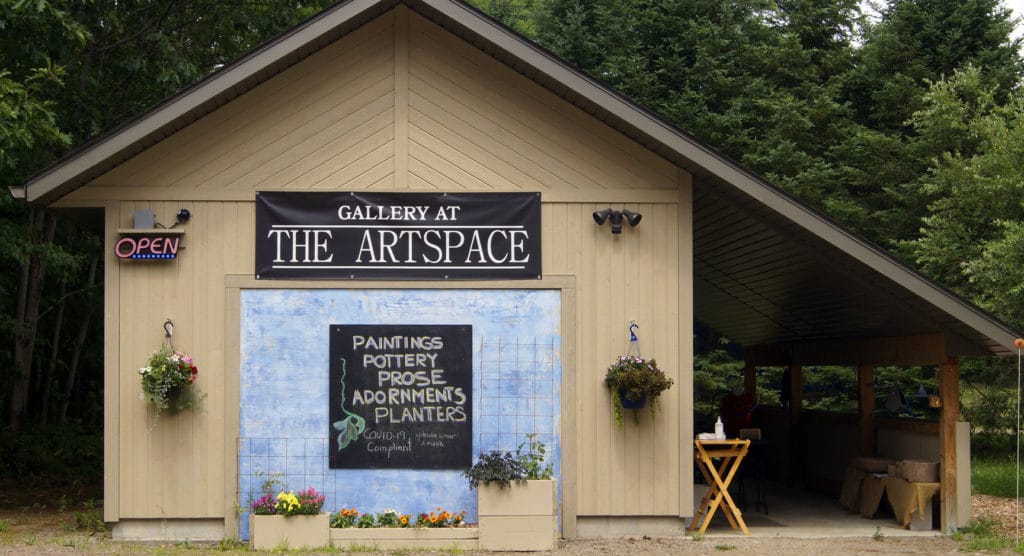 Indigodragonfly Studio
We offer our individual and unique takes on traditional yarn dyeing, refusing to be a cog in the cookie-cutter yarn industry. We specialize in luxury yarns with an emphasis on finding the best yarns as well as developing custom yarns with our global-wide mill partners to bring you products no-one else has.
We are also well-known for our humour – we could call that blue skein Dye Lot #346 but where's the fun in that – one of our yarn clubs is the Smart-Ass Knitters for World Domination Club; 'nuff said?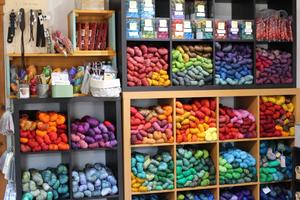 JK Morin Studio
My name is Jacqueline Kimberly Morin. I'm a self-taught artist who has played with acrylic paint and brushes all my life. Since launching my full-time career as an artist in 2018, I have participated in various juried shows, including the Society of Canadian Artists. My first paddle creation was published in a magazine article and this was the inspirational event that kicked my artistic career forward.
My subject matter and medium may vary since I paint what catches my eye and makes me smile. The more I explores, the more my mind flows with ideas. My passion truly lies in 'The Art of Creating'. Each day brings new memories and feelings that recharges my passion to keep painting!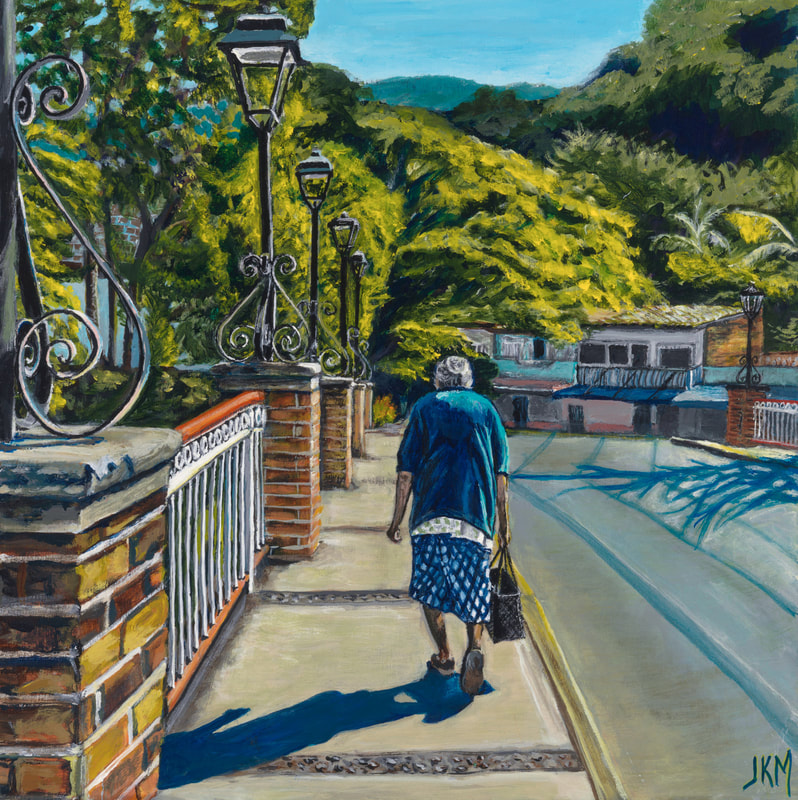 Lofthouse Beeswax Company
Perfect for creating a warm glow in your home.  Lofthouse Beeswax Candles is a locally owned business in Haliburton, Ontario that makes many styles of beeswax candles. We sell these candles at the Haliburton Farmer's Market and selected retail stores as well as to customers in many countries.
We started the business in 2016. With more than 50 years of experience in the beekeeping industry, we take pride in producing quality beeswax candles and providing customers with individual and personal service.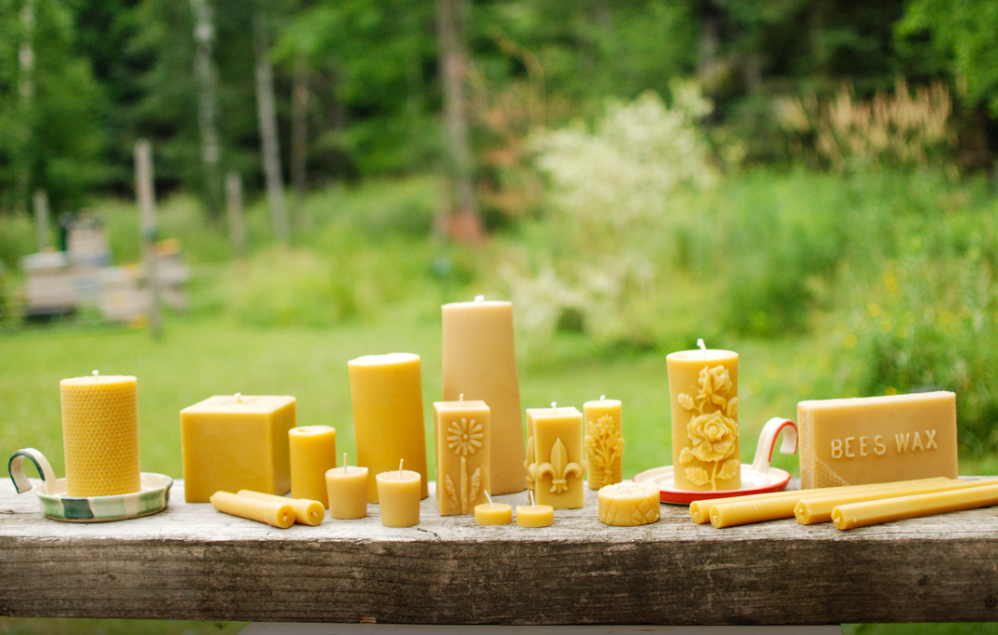 Love Pottery
Love Pottery offers handmade ceramics, along with pottery classes for children and adults, locally made soaps, delicious espresso drinks, and textiles brought back from winter travels abroad.
It also includes The Open Space yoga studio and hosts LoveFest Dorset each summer.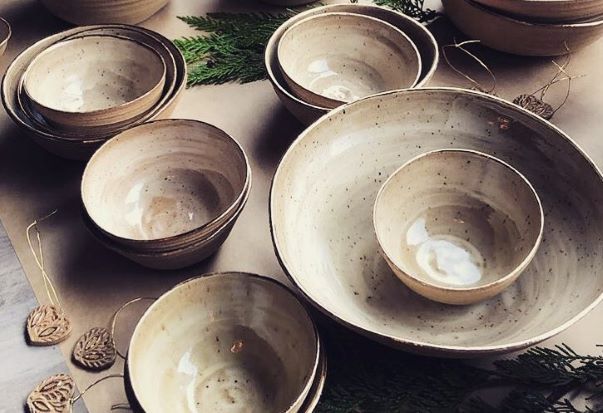 Noelia Marziali
I love lines, drawn, painted, carved and cut. My love affair with them began long ago and continues with a lifelong practice of keeping journals. 
Long time traveler and maker, schooled in fine arts, shaped by my wanderlust. Artists, writers, rebels, inventors, circus folk, explorers are my people. Other passions include face painting, fire, hula hooping, spastically spinning upside down and celebrating all things WEIRD IN THE WOODS.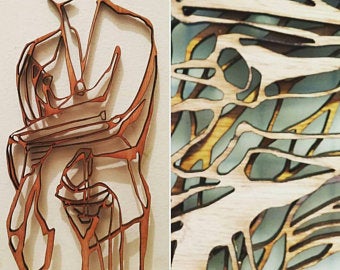 Nyx Art Studio
Handmade crocheted clothing, accessories, original artwork, upcycled decor pieces.  All of my handcrafted items are one of a kind and cannot be exactly replicated.
Almost all of my handmade clothing are Vegan products and are marked with a Vegan product symbol. I carry 2 kinds of Hand dyed yarns: ethically & humanely sourced Merino wool/blends and 100% Organic Cotton.
Mixed media and painted pieces are my own original works of art. Check my Instagram for the most up to date "for sale" pieces. I accept commissions if there is something you want made just for you! I use almost all mediums.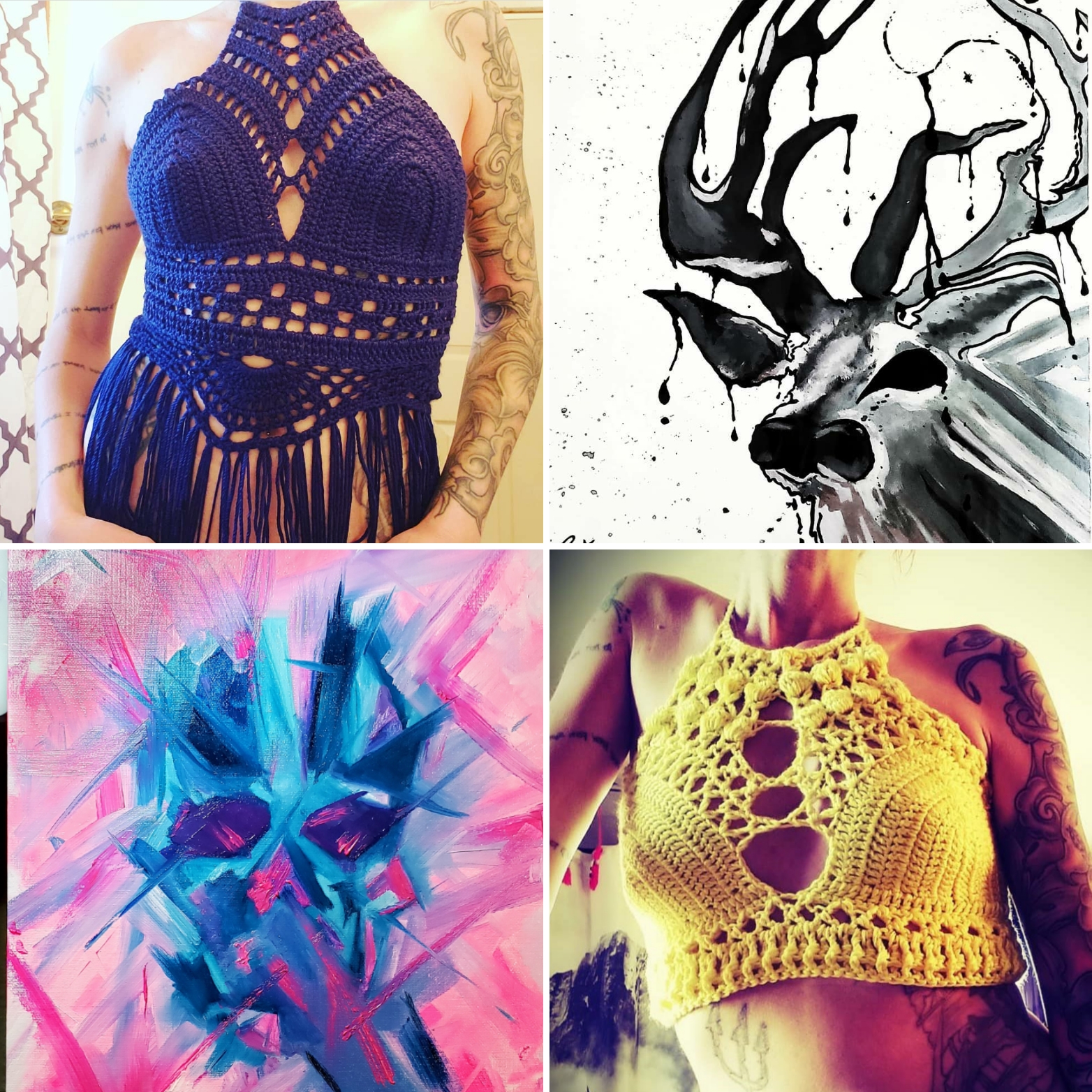 Paradigm Designs
Susan Watson Ellis followed graduation from the University of Toronto with an apprenticeship to a German goldsmith. In 1981, she opened Paradigm Designs, creating handcrafted jewellery which sold across Canada. Her work won recognition in 2000 as part of the Craft Ontario's "Looking Forward" exhibition, curated by the Victoria and Albert Museum in London, England and represented contemporary Canadian craft. She was also chosen to be part of their "Craft in the Making II" exhibition in 2003, their juried exhibition "Ontario Craft '07", and one of eight jewellers chosen to be part of their "8 x 10 Jewellery"exhibition in 2012. Her work is part of the permanent contemporary Canadian silver collection at the Macdonald Stewart Art Centre in Guelph, Ontario.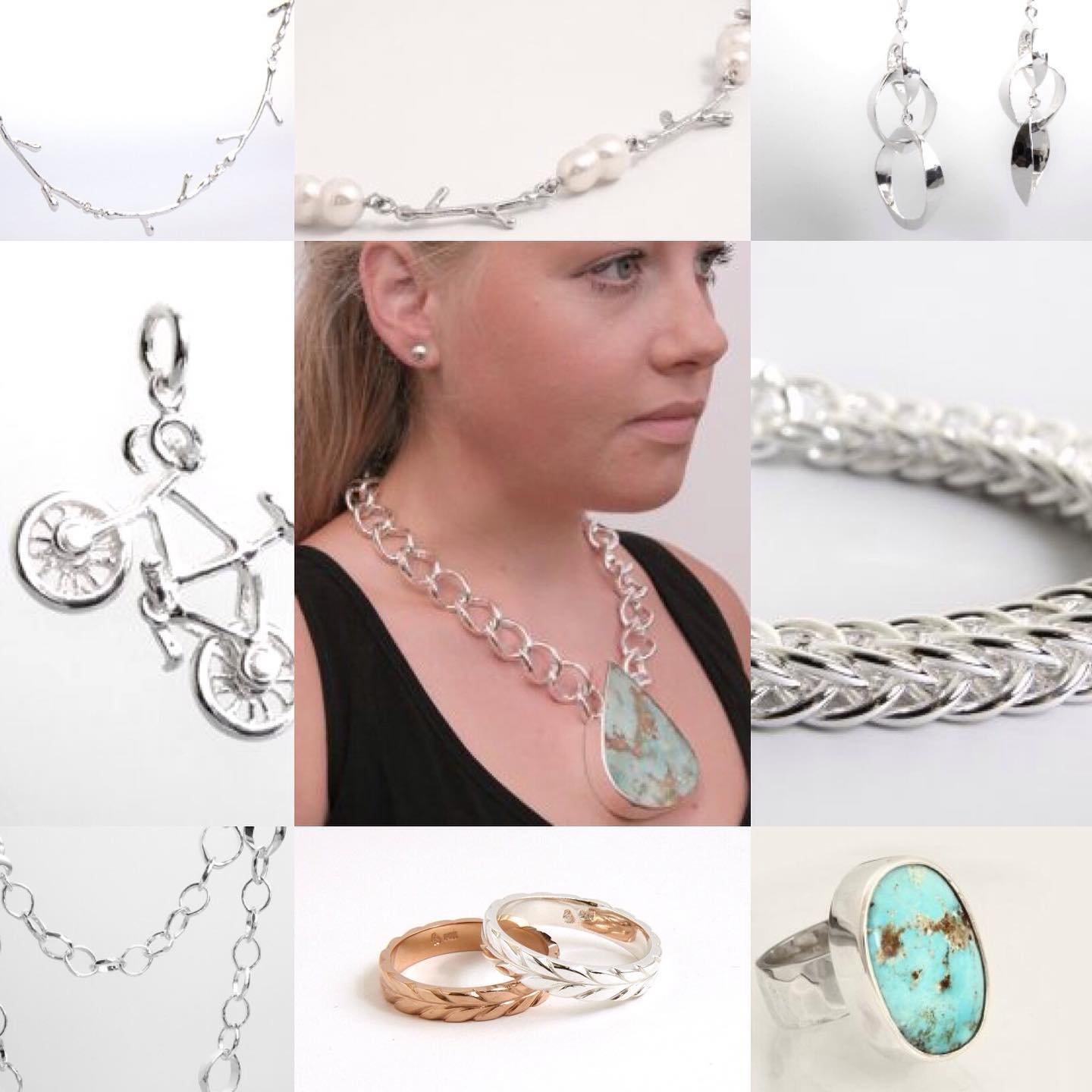 Wendy Wood Studio
Wendy captures the light and space within the landscape creating a feeling of place and time in her paintings. She is drawn to the linear structure of the landscape, long sloping planes or high rocky cliffs.
Wendy is a self-trained artist with a drafting background who works in acrylics. In her late 20s she started painting in oils, took some lessons in watercolour and soon after discovered liquid acrylics. "They move like watercolour but give me the vibrancy of an oil. I am able to paint the little details."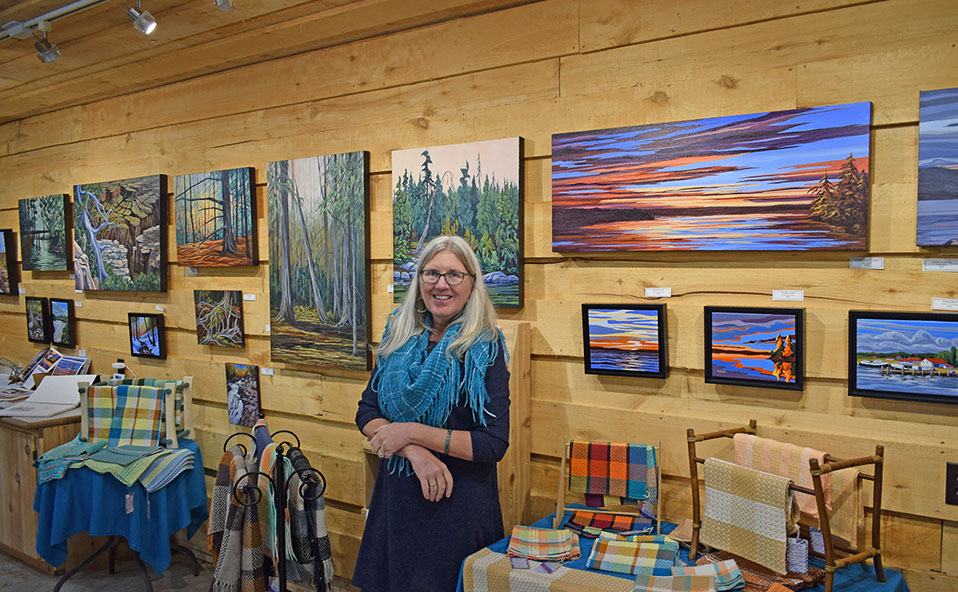 Walling Studio
"I explore imagery in all it's wonder, strongly inspired by organic elements, a unifying theme of texture is present throughout my work. I enjoy using a variety of mediums and processes; moving away from strictly digital photography I practice film photography, printmaking, jewellery, digital collage, fibre art, metal art and more"
Check out our visitors guide
View and down load our Haliburton Highlands visitors guide – including maps, resources, Hiking Trail heads, Driving Tours, local destinations and more……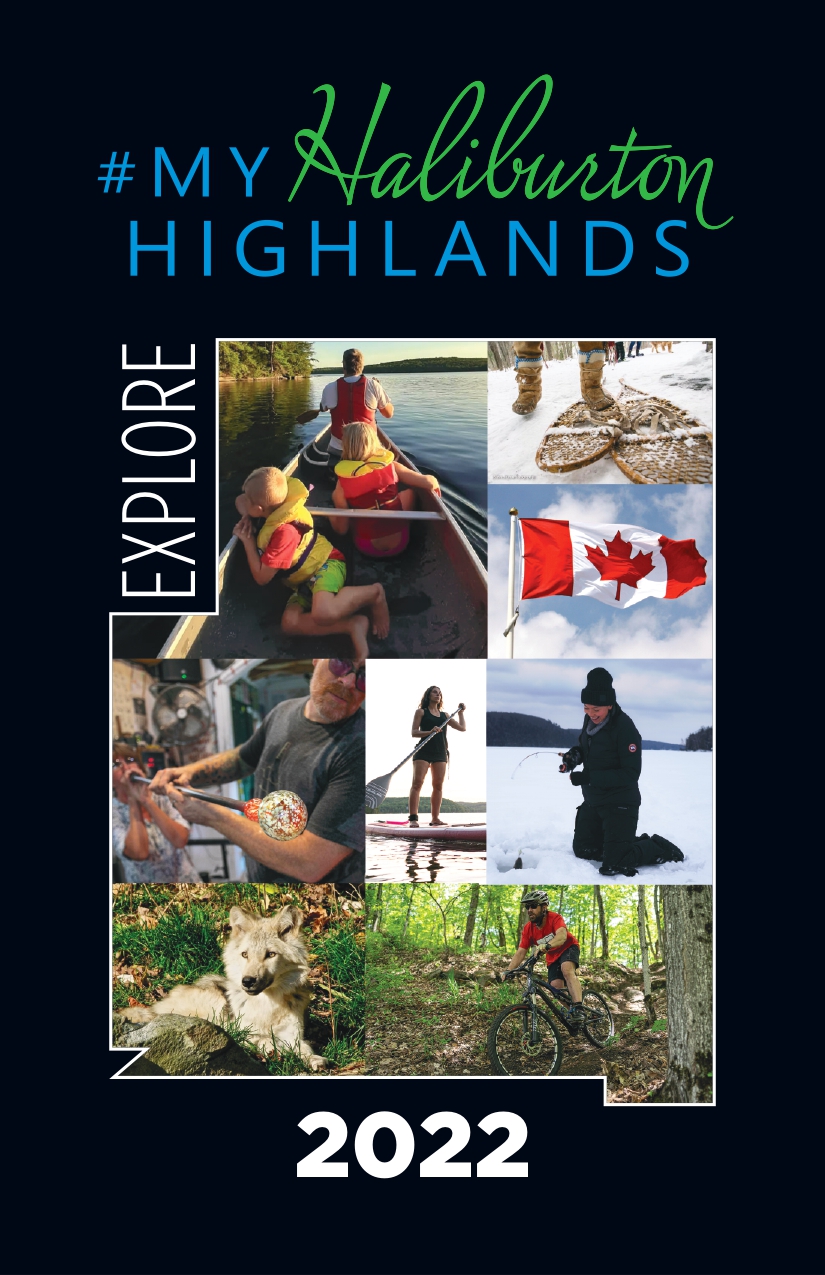 Stay up to date
Sign-up for our Newsletter and we'll keep you updated on events and ideas for planning your next trip in the Haliburton Highlands!