Half a dozen historic buildings comprise the Heritage Village, including a pioneer farmstead with a settler's home, barn and cook house. – Photos courtesy Minden Hills Museum
Engaging children as a means of exploring Minden's past is an important part of the programming at the museum. – Photos courtesy Minden Hills Museum
Minden Hills Museum boasts a living history village, where costumed volunteers performing daily chores of yesteryear help transport visitors back to the 19th century. – Photos courtesy Minden Hills Museum
The school and church were at the heart of any pioneer community. The school at Minden Hills Museum dates to 1896. – Photos courtesy Minden Hills Museum
Much of the produce grown in the museum's heritage gardens is used for baking as part of the museum's programming, giving visitors a taste of 19th-century cooking. The remainder is donated to local food banks. – Photos courtesy Minden Hills Museum
The Minden Hills Museum and Heritage Village plays host to a number of special events throughout the year, including a popular War of 1812 reenactment. – Photos courtesy Minden Hills Museum
Like roots of the trees that cover heavily-forested Haliburton, local history is entwined with the exhibits and heritage buildings at Minden Hills Museum and Heritage Village. Every artifact, large or small, tells its own unique story that, when woven together with others, collectively tell the story of Haliburton County.
The Minden Hills Museum opened in 1984 as a modest one-building facility operated solely by dedicated volunteers, but has grown considerably since then to include a small village of buildings, with a number of  full-time staff and fulfilling a variety of roles beyond merely historical preservation and education. Reflecting the expanded size and scope, its name was changed to Minden Hills Museum and Heritage Village in 2000.
Today, in addition to a modern-built building, we have half a dozen historic structures on site, moved here over the years by the efforts of interested, passionate volunteers. It's unusual for a town of Minden's size to have a heritage village, so it's something the community is very proud of. Also unique is the fact the museum shares grounds with a branch of the Haliburton County Public Library, a nature interpretive centre and an art gallery sharing the setting to create a special community facility.
The Agnes Jamieson Gallery permanent collection consists of work by Andre Lapine, an older contemporary of the Group of Seven noted for his accurate depiction of landscapes and horses. Russian born, in what is today Latvia, Lapine moved to Canada in 1905 and earned a reputation as one of the nation's best artists. His work was collected by the National Gallery of Canada and the Art Gallery of Ontario, and appeared frequently on the cover of the Toronto Star Weekly. Lapine moved to Minden in the 1940s and died there in 1952. The Agnes Jamieson Gallery has the largest known collection of his work.
While several full-time employees are on staff, volunteers remain the lifeblood of the Minden Hills Museum and are responsible for all of the historic interpretation in the village.
There are numerous special events throughout the year, including several notable summer happenings.  On the weekend of June 14-15 the recreated village plays host to a War of 1812 re-enactment, wherein the Incorporated Militia of Upper Canada recreates camp life and training in an authentic time-period setting. Later, Minden Past Culture Day takes place on Saturday, August 3. This day-long event involves a number of activities with Canadian roots, including the making of traditional food and handicrafts of yesteryear, lumberjack demonstrations, and live music with fiddler Bethany Houghton. Admission for both events is by donation.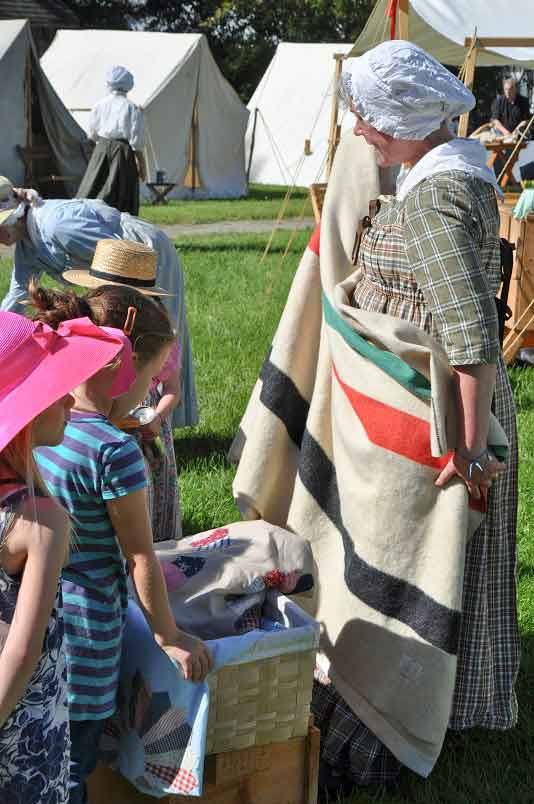 Photo courtesy Minden Hills Museum
"All the community programming at the museum reflects Minden history, from logging to agriculture to homesteading. The daily activities involve husbandry, household chores, gardening, cooking and recreational activities. Visitors can either watch demonstrations or participate in the drop-in activities listed each day," explains curator Laurie Carmount.
The heart of the museum, of course, is the recreated pioneer hamlet with its historic buildings. These varied structures are enjoyed summer and fall through self-guided tours, each one offering its own unique window into the past.
Built by Fred Haultain in the early 1850s on a 111-acre homestead at Bobcaygeon Road and Highway 35, the Bowron House is representative of the type of home built by early Haliburton settlers. When settlers arrived in the wilds of 19th century Haliburton, their first task was to build a log shanty as shelter from the elements. It would have been a simple 12-foot-square cabin that could be thrown up quickly with trunks of small trees for the walls. This was just a temporary structure, however, a crude expedience.
Within a year or two, settlers would turn their attention to building a more substantial home. Like the Bowron House, this would be a rectangular structure constructed of hand-hewn squared logs, typically measuring roughly 16 x 20 feet. Walls would be chinked with a homemade plaster of mud, sticks, moss and other natural materials. There were two or three rooms downstairs, including the parents' bedroom, and above, a low-ceiling loft where the children slept. Oftentimes, a coat of whitewash was applied to the interior surfaces of the hewn lumber to brighten the home. Later, interiors might be plastered using a mixture of sand and locally produced lime applied over hand-split lathes.
In 1860, Haultain sold the property to the family for whom the home is named: English immigrants Francis and Mary Bowron, who raised their four children within this modest structure.
Most farmsteads would have had a number of outbuildings on the property. There would have been a barn, of course, an early example of which can be found in the form of the Bailey Barn relocated in 1999 from its original location at the corners of Deep Bay and Murdoch Roads. But there would have been other outbuildings as well: drive-sheds for buggies, wash houses where clothes were soaked and scrubbed clean of dirt accumulated over days spent toiling in fields, tanneries for making leather, tool sheds, and feed stores. Many would have begun as the homesteader's first, primitive cabin hastily thrown together to survive the initial winter before a more substantial home could be built. The out building on the grounds of the Minden Hills Museum has been set up as a cookhouse, of the kind used by farm families during the summer to keep the home cool and at deep-woods logging camps to feed ravenous lumberjacks.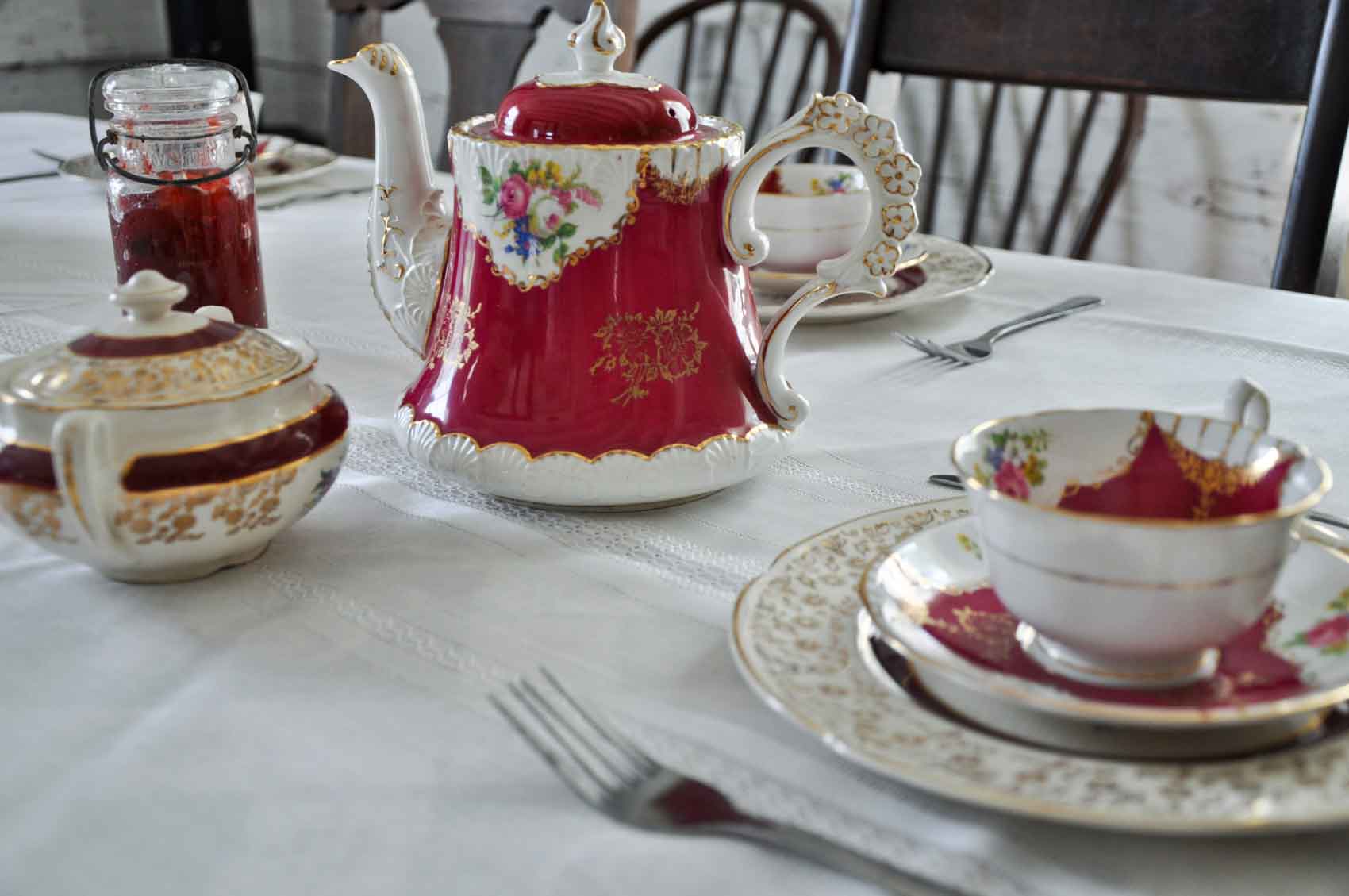 Photo courtesy Minden Hills Museum
Settlers held to a steady faith that God would provide them with rich fields and prosperity if only the trees that shrouded their land were cleared away. Regardless, life in early Haliburton was a constant struggle, as the thick forest and bare soil hindered attempts at crop cultivation. But though pioneers may have been become exhausted by the constant toil and even disenchanted by the meager sum of nature's bounty, it certainly wasn't reflected in their devotion to God. Soon after taking up their bush farms, settlers would begin to turn their thoughts to building a house of worship.
Churches were much more than places to pray. They also hosted Sunday religious services, baptisms, weddings, town meetings, polling stations, concerts, and other gatherings vital to creating community spirit. In a very real sense, within the church's walls beat a community's heart.
The church at the Minden Museum is a replica of the circa-1889 Bethel Church, still located on its original site on Bethel Church Road. Its benches and choir box came from another historic church, while the logs for its walls were salvaged from an aging structure on Spring Valley Road. Like any 19th century church, it was raised by volunteer labour; in this case, three dedicated individuals, whose work was completed in 1990.
Once a community had grown large enough, the thoughts of its settlers would inevitably turn to erecting a schoolhouse to educate their children. Standard School (SS) #9 Stanhope was one such school, serving the hamlet of Hindon Hill. The first SS#9 was a small, crude log structure on Brady Lake Road that served well for a decade or so. By 1895, however, this school was aging and in dire need of repair, and the number of students had outgrown its modest size. A new, larger school was clearly required. The schoolhouse on display at Minden Hills Museum is that second school, built in 1896.
The number of children attending would have fluctuated by the season. Older boys would have been required to help with farming efforts for much of the year, which obviously was to the detriment of their schooling, but the average class would have numbered between 20 and 25 students.
Beyond educating youth, the schoolhouse also hosted all manner of community functions. Everything from dances and Christmas plays to village meetings were held here. No wonder it was with heavy hearts that the community watched as the schoolhouse was closed mid-century. Perhaps some older residents took some solace when the building was acquired by the museum in 1990 and moved on site for preservation.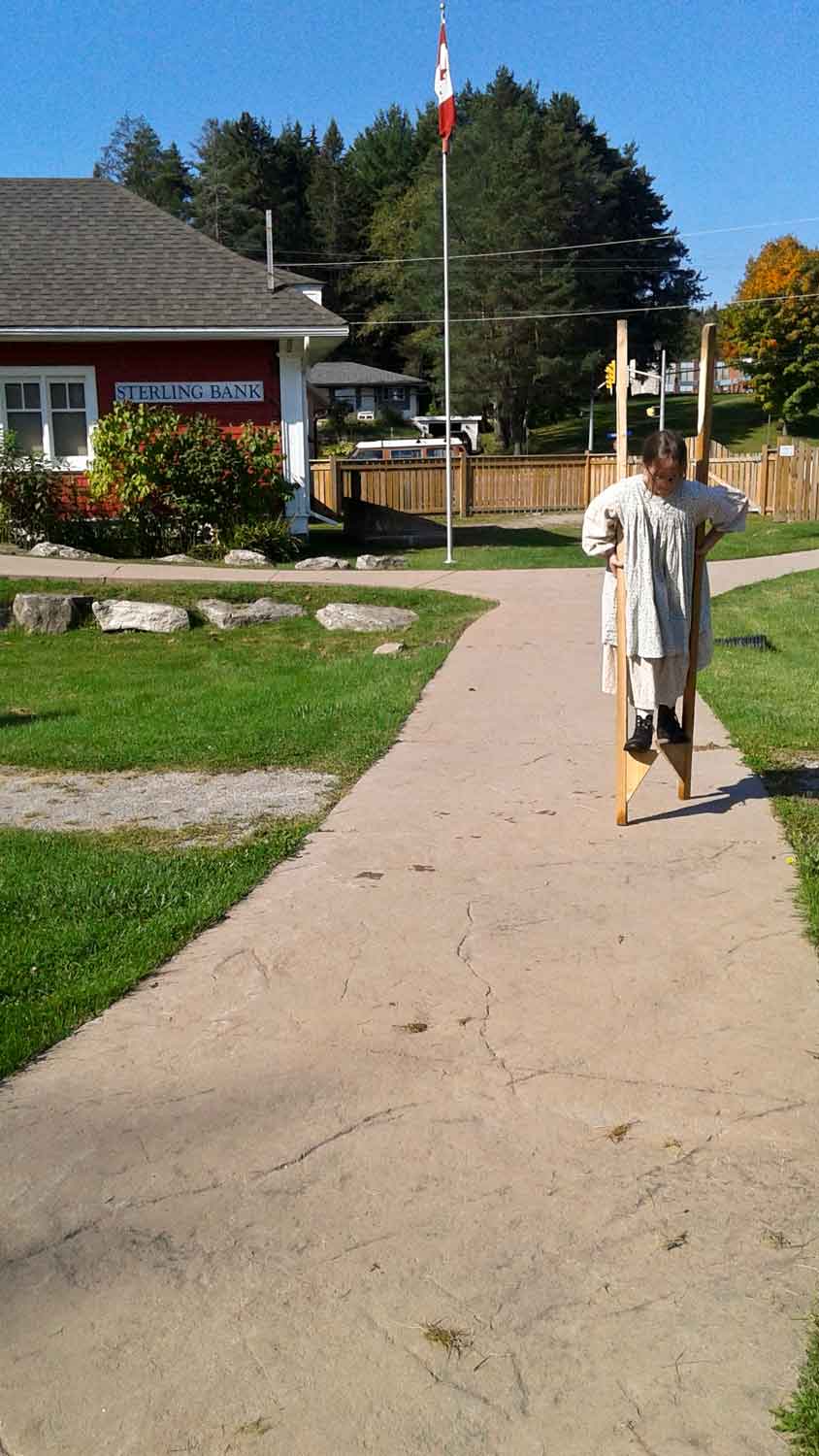 Photo courtesy Minden Hills Museum
The most unique building on the museum grounds is a partially-restored bank. Only a handful of recreated pioneer villages in Ontario can boast a bank in their collection, so this represents a true feather in the cap of the Minden Museum.
The first bank in Minden was opened in 1895 by J.H. Delamare. Just over a decade later, in July 1907, the Sterling Bank of Canada acquired a lot at the corner of Newcastle Street and Bobcaygeon Road and built the fine structure today found on the museum grounds. Delamare was hired on as the bank manager and remained in the position until it closed in 1911. Its closure was only temporary, however: it reopened in 1919, was sold to Standard Bank of Canada in 1925, and was then taken over by Canadian Bank of Commerce in 1928.
Thirty years later, in 1958, the building was moved at Peck Street and used as a library. It was later donated to the museum and became its first building. In fact, when the museum opened, its entire collection of artifacts was exhibited within this onetime bank.
Exhibits aren't limited to historic buildings, however. A recreated settler's garden is of particular interest to many visitors. A settler's garden was very different than our own, designed for practical use rather than aesthetic appeal. Every flower and plant within it needed to have a use: marigolds for warding off insects, coreopsis was used for dyeing wool, dill helped colicky children, and cone flowers treated colds. Nature trails weave through the woods that encroach upon the heritage village, giving visitors a sense of the beauty but also the rugged hardship and sense of isolation that early settlers experienced upon arriving in Haliburton.
Through its numerous, diverse exhibits the Minden Hills Museum and Heritage Village captures the diverse history of the community, from its roots as a primitive pioneer settlement in the early 1800s to present day. Its artifacts and historic buildings are firmly rooted in the fabric of Minden Hills, revealing the character of the region. And while the museum is rooted in the past, it remains very much a vibrant part of the community's present and future.
As such, like an invaluable historic artifact, the Minden Hills Museum and Heritage Village is a treasure.
Written By Andrew Hind for the Muskokaregion.com