The summer of 2018 was fantastic and it beautifully hot. Remembrances of July last year, when most days were cool and rainy still are firmly in my mind and the gorgeous days of this year were appreciated. With the warmer weather, the gardens and forests brought out their best.
While working under our spruce tree I found a turtle returning from the ponds. She has been noticed wandering all around our property and we have been careful to avoid her on the driveway. It is a good Samaritan's job in Haliburton County to help the turtles cross the road. They are on the move to find the best location to lay their eggs. Last evening while in our garden, a family of deer wandered though. They were so tame that they came right up to us and felt free to nibble on the growing peas. They didn't even mind when I chastised them. These are all great opportunities for artist to draw, sculpt and paint.
The artists in Haliburton County continue with their work in producing lovely items for sale and display. Sometimes, however, it is time to relax and enjoy each other's company. The potters in the County, with the encouragement of Rene Woltz, frequently get together to talk about their art, discuss some best practices and appreciate the newest pieces. We were invited by Yael Novak to visit her Studio and Gallery, Pottery Lane on Osprey Road.  It was so interesting to hear about her process in creating her work and how one idea led to another to inspire her work.  After visiting her gallery she invited us on a short boat trip on Soyer's Lake to her wonderful island for a pot luck lunch. Such a terrific way to spend an afternoon appreciating a fellow colleague's work and enjoying the camaraderie of like minded potters. We are so lucky to be working in such a remarkable place.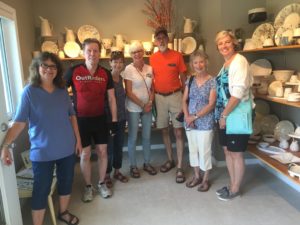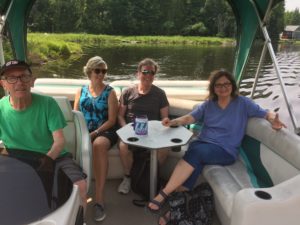 Many artists have their doors open during the summer for visitors who are looking for unique items designed by creative minds. The Tour de Forest which happened on the August long weekend was a wonderful opportunity for visitors and residents alike to tour the studios.
At Studio Rose, Wayne has been experimenting with a new design in large bowls. They are lovely and very unusual. The metal shop is now functional and a new dragon fire pit is under way as part of a new commission. I urge you to take some time to visit, enjoy the drive and the interesting work. For more:  http://www.studiorosepottery.com/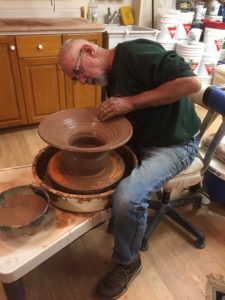 …and don't miss the Haliburton County studio tour, taking place this fall!