In 1903, Robert and Anne Gould started taking in boarders for $3 a week, beginning what would become Wigamog Resort – probably the most famous resort in all of Haliburton, – Courtesy of Haliburton Highlands Museum
A single lodge remains from the many that lined Lake Kashagawigamog's shores.
Long before there were cottages, resorts lured people to Haliburton. They weren't as big or famous as those in neighbouring Muskoka, but they offered the same warm hospitality and escape from the stresses that even then were associated with city life.
What few people realize is the sheer number of summer hotels that existed here at one time. Today they are a disappearing breed; most have long since vanished, and many of those that still exist are being transformed into private vacation properties. But as recently as half a century ago, there were dozens in Haliburton. The greatest concentration could be found on Lake Kashagawigamog, where there were 17 resorts (and another on adjoining Lower Lake Kashagawigamog and Canning Lake), each one with a unique charm and personality, each with its own special stories to tell.
The story of these resorts can be traced back to the earliest years of Haliburton. Farmers came to the region in the 1880s and '90s eagerly anticipating transforming the dense forests into golden fields of wheat. Their dreams were soon shattered. Most farms, in the best of years, barely provided enough to sustain the farmer and his family. Prosperity through tilling the soil and cultivating crops proved elusive. Naturally, many people became disappointed with their farmland and began to search for other means of making a living.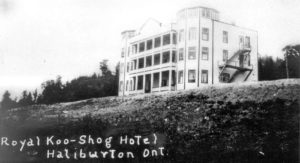 In addition to the 17 resorts on Lake Kashagawigamog, there were almost a dozen others on the adjoining chain of lakes, including the short lived Royal Koo-Shag on Head Lake. Opened in 1921 it burned to the ground in 1925. Sir Sandford Fleming College stands on its former site. — Courtesy of Haliburton Highlands Museum
The success of resorts in neighbouring Muskoka seemed to point the way toward a prosperous new future. The first to take the plunge and open a resort on Lake Kashagawigamog was the Gould family. "The Goulds came to Haliburton in the 1860s and settled on land on the west side of the lake. In 1903, Robert and Anne Gould started taking in boarders for $3 a week, beginning what would become Wigamog Resort – probably the most famous resort in all of Haliburton," explains Tim Hagarty, a volunteer at the Haliburton Highlands Museum with a deep passion for the history of these lost resorts.
Other landholders took note and, over the next few decades, began opening resorts of their own with names like Deer Lodge, Caribou Lodge, Chateau Woodlands, and Bonnie View Inn.
While the Goulds founded Wigamog, they are probably better associated with another resort they established: Birch Point Lodge. After selling Wigamog, they bought another property across the lake and established Birch Point Lodge, the first purpose-built resort on the lake. It would remain in family hands for close to a century. It was time spent at Birch Point that seeded Hagarty's love of Haliburton's resorts.
"My grandparents had started going to Birch Point every summer in the early '40s. I went the first time while in my mother's womb in 1946, and returned the next 15 years in a row as a child," he explains. Hagarty's voice gets wistful as he thinks back to blissful childhood vacations, clearly wishing he could relive them again. "It was a magical place and I loved it. I couldn't wait to go back each summer."
This, despite the fact the resort had little in the way of amenities and nothing in the way of pretension.  "Birch Point was as bare bones as you could get. There was one central washroom facility in the lodge; there were no washrooms in the cabins, if you can imagine that! There was a screened in porch on your cabin and you'd wake up to find a big porcelain bowl and mug filled with water for washing up," Hagarty recalls, laughing at the memory. "Birch Point was far from unique. Most of the resorts were basic like this."

At one time, 17 resorts were operating on Lake Kashagawigamog, including little-remembered Deer Lodge (pictured) and Caribou Lodge. — Courtesy of Haliburton Highlands Museum
Perhaps the one exception was Chateau Woodlands. This resort, while still far from rivaling the biggest and most opulent summer hotels in Muskoka, was a cut above the rest on Lake Kashagawigamog. Indeed, when built in 1937 it was purposefully designed to cater to a higher class of clientele than its neighbours. The entrance was marked by two majestic cobblestone pillars with lanterns inside to welcome guests. The lodge was large, airy, and refined. There was a massive dance hall with towering ceilings  and the cottages, tucked back in the woods for privacy, had the luxury of toilets, running water, and even showers. It was, by local standards, the height of luxury.
"A large part of the appeal of those resorts was the relationships with the owners and fellow guests. In those days, guests would return every year during the same weeks, sometimes for decades or even generations (one family vacationed at Birch Point for four generations, starting in 1927). As a result, guests became like family to one another," Hagarty explains, noting – at least in his experience – the bonds remain even decades later.
While each resort had its own sense of culture and community, they were very much a part of the wider local community, explains Kate Butler, director of the Haliburton Highlands Museum.
"The lodges were very involved in community events, hosting dances and contributing a float each August to the Rotary Carnival parade. They were also a place where local teens could get their first jobs. We've heard lots of stories about teen romances blossoming at the lodges, as well as accounts of daring escapades when teens snuck off to go dancing at the Golden Slipper (the local dance hall) after curfew," she explains.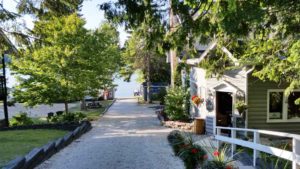 Bonnie View Inn, close to 100 years old, is the sole remaining active lodge on the lake. — Photo by Andrew Hind
Sadly, these blissful memories are almost all that remains of this era, the resorts having disappeared one after another in recent decades. A myriad of factors undermined them. The relative cheapness of air transportation enabled vacationers to head off to Europe, the Caribbean, and other exotic locales. A rising middle class were able to buy cottages instead of spending weeks on end at a resort. And soaring waterfront property values (the Birch Lodge property, purchased for $750, was subdivided into four cottage properties and sold at $1 million apiece) convinced many resort operators to take the money and run. Combined, these three factors alone delivered a near-fatal blow to area resorts.
The only one that endures is Bonnie View Inn, and it does so almost through sheer force of personality of its owner, the seemingly-tireless and endlessly amiable Andrea Hagarty. Resorting is in her blood, part of who she is.
"My grandparents, my parents, all of my aunts and uncles (Tim Hagarty among them) and cousins went to Birch Point every summer for two weeks without fail. It was part of my childhood. I started working at Birch Point Lodge in 1984 at age 13. I worked there every summer, driving up from Mississauga the day after school ended and heading home the night before school started until 1991, when I just stayed after graduating," she recalls.
In 1993, she accepting a job at neighboring Bonnie View after Birch Point closed in September. The plan was to work at Bonnie View for the winter and spring, then move on. It didn't quite work out that way. It's been 26 years and she's still there, having purchased the venerable resort in 2005 when it was one year removed from its 90th anniversary.
Inside and out, Bonnie View looks very much like it did 50 years ago – hold up a vintage postcard and see for yourself – but of course Hagarty has had to adapt to evolving times. "So much has changed. The families who once came year after year no longer do – their kids grew up and new families do not stay as long any more. Life is too busy. Kids' sports go year-round now, and so many have purchased time shares and cottages."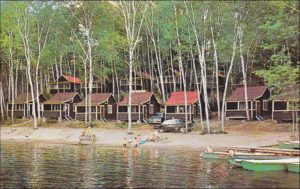 Most of the resorts on Lake Kashagawigamog were pretty bare bones, the exception being Chateau Woodlands, pictured here in the mid-1950s, which catered to a higher-end clientele. Its most notable feature was its massive ballroom with towering ceiling. — Courtesy of Haliburton Highlands Museum
Hagarty has begun shifting her focus to weddings, hosting as many as 25 to 30 every years. They are more reliable than booking a number of different guests for weekends at a time. At the same time, while there is still a restaurant on site Bonnie View no longer offers a meal plan because Hagarty estimates that at least half either make their own food or go to places in town to eat.
And yet, despite changing times, Bonnie View still endures and even thrives as it comes up upon its 100th anniversary, thanks to Hagarty's passion.
Her uncle also has passion for Haliburton's resorts, which he has channeled in another direction: guided boat tours that explore the history of these lost lodges. A few years ago, in his capacity as a volunteer at the museum, he pitched the idea to Paul Dillon, who operates Highland Boat Tours. He wasn't sure the idea would work and if anyone would show up. To his surprise, the "Lost Haliburton" tours are almost always sold out.
"The cruises are weekly, 10 people per boat, and I do the commentary along the way," he explains. "People really enjoy some. Some are older folks looking to reconnect with memories, while others are younger and are interested in discovering a history they didn't know existed."
Indeed, it's a history few know existed. It's difficult to imagine a time, before the cottages that now line the shores, when 17 resorts operated on Lake Kashagawigamog. Only Bonnie View remains in operation, while from across the lake the eerily silent Wigamog Inn stares out at her, pondering her uncertain future while recalling a proud past and a lost era.
Written By Andrew Hind for the Muskokaregion.com