In addition to the wild wolf packs that make their home in the 100,000 acres of Haliburton Forest, their captive wolf pack provide opportunities for education and research.
In preparation for the captive wolf pack's arrival, a 15-acre enclosure with 14-foot-high fences was completed in September 1993 and five wolves arrived that October. They immediately took to their new home. More wolves have been introduced and pups have been added as well.
About the Wolves
Wolves are a pack animal, which means they are family based. They travel and hunt in groups. To simulate the natural hunting experience, the wolf pack is fed whole animal carcasses. You might be surprised to learn that their number one food source is beaver, which is purchased from local trappers. The wolves are 100% wild, despite being born in captivity, as they have zero contact with people.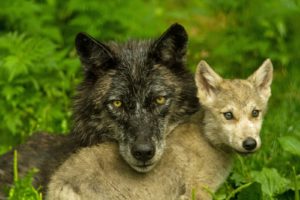 The Wolf Centre
The Wolf Centre is a safe way for people to be as close as possible to these wolves in their natural habitat. Open year round, this 5000-square-foot facility was built with the goal of educating people about an often-misunderstood species. Through displays and exhibits, you can learn how the world has viewed wolves in the past and what we know today about wolf behaviour. Children of all ages will enjoy learning about the wolves. Adults love it too—come with your colleagues, your partner or a group of friends.
The observatory provides the chance to catch a glimpse of the wolves in their 15-acre forested enclosure. Wolves are viewed through one-way glass so they cannot see the people inside the building. But they do hear and smell people. Our friendly and knowledgeable staff are happy to answer questions about the wolves.
Wolf Howls
The opportunity to experience wolves communicating with each other is quite rare, especially if you live in a city. The Wolf Howl is a free program on Thursday evenings in July and August. It starts with an interpretive program about wolves and their relationship with humans, followed by a short, guided walk in the forest at dusk. The guides will begin howling to encourage the wolves to respond. A response is not guaranteed, but we have a great success rate.