At Medeba we get messages from campers reminiscing about the time they spent here, this past winter we got a message that we wanted to share:
The water was shockingly cold, I was treading water in with my upside-down canoe bobbing beside me.  Both the waves and the wind were driving the cold of the water right through my clothes to my core.  This would normally be a time for panic but I knew what to do.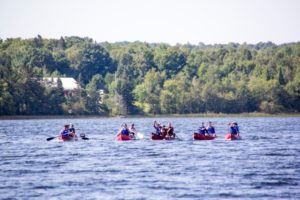 Rewind to the mid 1980's to when I was a camper at Medeba Adventure Learning Centre, we would go on canoe trips, take part in exciting adventure activities, and spend time singing songs around the campfire.  Medeba was a place I loved so much, it taught me confidence, how to work as a team, and helped me see healthy ways of dealing with conflict.  There was a High Ropes course, Zip-Line, archery, riflery, Mountain biking and so many more activities. I also took part in the instructional canoeing classes that taught me how to right a canoe and get back in if it had capsized.
Surprisingly the skills learned came back naturally and without much time I was able to coach my friends in the still upright canoe how to take my boat out of the water and preform a canoe over canoe rescue.  Once my boat was upright, I was able to hop back in and we quickly paddled to shore to get out of our soaking wet and cold clothes, put on something dry, and warm up around the campfire my friends had made for me.
I'm not saying camp will save your life too, but I am certain that without a doubt, what you learn at a week of camp stays with you for life.