Image of Pine Cabin by @cabinscape located in Haliburton Forest & Wild Life Reserve
You've probably heard the term 'glamping' (glamourous camping), considering how it's fully carved out its place in modern society, but here's a little refresher.
Sometimes one wants to get close to nature, but not too close, this is where glamping comes in.  You can satisfy all your nature desires without sacrificing comforts like a soft bed, or light and glamping is often off-grid making it a more sustainable choice of accommodation.
Really cool treehouses, yurts, tents, and other types of unique structures have been popping up all over Ontario.  We've put together some of our most unique spots for you to check out when nature and silence starts calling your name.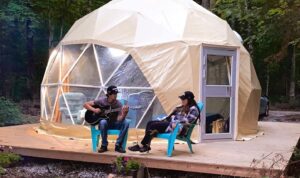 Camp Adelaide – Haliburton, Black Lake
Camp Adelaide is located near the Black Lake in Dysart et al (Haliburton), Ontario.
They offer various sizes of hotel style tent, open camp grounds for rent, cottages and most impressively, starry houses also known as "GeoDomes".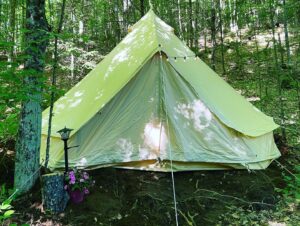 Deep Roots Adventure – Algonquin South Gate
Stay in their beautiful canvas bell tents and enjoy amazing meals. You'll have the opportunity to experience several different types of outdoor adventure activities; Paddleboard, Kayak, Canoe, Horseback Riding, and Hiking with plenty of restful downtime to enjoy being in the forest and lakeside! All experience levels welcome.
Deep Roots Adventures offers various workshops to help you feel capable and confident to go on an adventure in the wild.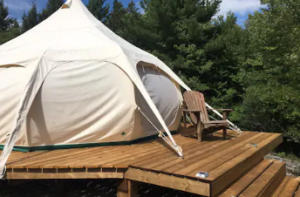 Killara Station – Lochlin
A one of a kind "farm stay" opportunity!  Gorgeous, and sturdy, Belle tent on solid platform mounted to rock face overlooking stunning farm property. Sleep on a king size bed, charge your phone on solar power, before exploring 215 acres, trails, and meadows.  Pet the horses, goats, pigs, chickens & Edward the Emu then enjoy long evenings and sunsets from the beautifully landscaped fire place.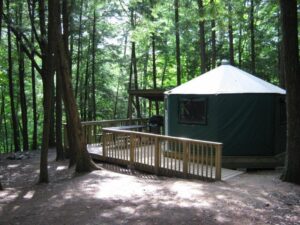 Silent Lake Provincial Park 
For those who want to enjoy the park experience but need a little bit more comfort or for those dedicated park visitors who want to experience winter at the park, there are 10 cabins and 8 Yurt accommodations.
These roofed accommodations at Silent Lake are open year-round and are a great way to experience winter in Silent Lake Provincial Park while still staying warm at night.
Could you be any closer to nature than sleeping in a tree? Not really.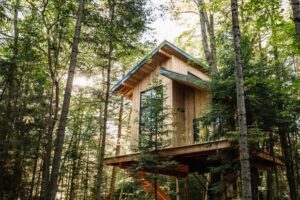 The Baltic – Fort Treehouse – Minden Hills
The Baltic was built using as many sustainable and natural materials as was feasible and is completely off-grid. Notably, an innovative hardware was used that supports the health, continued growth and longevity of the trees in which it was built.  Surrounded by windows on all sides, experience the magic of Haliburton Highlands' iconic evergreens and mixed hardwood forests from a new, transformative perspective.
Tiny is where it's at these days – tiny cabins, that is. And when you can get so much in a small space why would you want anything more?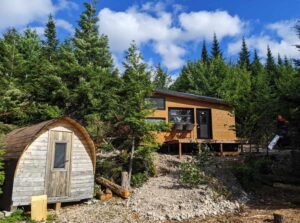 Cabinscape – Haliburton Forest
Our wilderness cabins are placed on beautiful, rugged and private properties that overlook lakes, rivers and meandering creeks — all with varying levels of remoteness to suit your personal adventure style.
Our micro cabins are the perfect home base for outdoor adventures. Even tinier than our wilderness cabins, these mini retreats are designed for two-three guests and are located directly on hiking trails.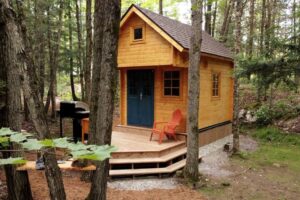 Elm 8 Cabin – Gooderham
This cabin looks like a fairy tale gingerbread house with its sweet loft and homey interior. You can use Elm 8 as your launchpad to explore Haliburton Highlands' vast forests and outdoor activities, like hiking, snowshoeing, snowmobiling, or cycling.  Why not share nature's bounty and bring a friend or two with you? This cabin sleeps four so you can bring a friend or two from your social bubble with you.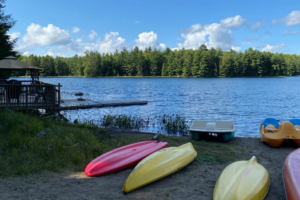 Highland Grove Camp & Cottages – Highland Grove
Lifelong memories are made in the Great Outdoors. The smell of the campfire, swimming & jumping in the lake, s'mores, and songs: all the things that remind us of the great days spent at summer camp as a kid. Relive & Recreate unforgettable memories in the calm serenity of this beautiful lakeside camp.
The camp is located by Big Hardings Lake: a quiet non-motorized lake, and offer cabins for families and camping enthusiasts to rediscover the joys of glamping: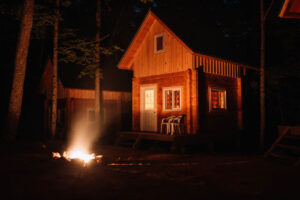 Winterdance – Back Country Tiny Log Cabins/Hiking Tours
2 Days of guided hiking the private wilderness with an all inclusive overnight stay in an adorable Back Country tiny log cabins!!
"Sharing the beautiful wilderness that we are honoured to be the guardians of with guests in the summer has been on our wish list for some time.  The 4 tiny log cabins that we built are ready so we welcome guests in the summer for a remote, overnight, all inclusive hiking adventures."  Read a Local's Take on their visit
Eco-tourism is for those who are looking for sustainable destination options. Typically, these are fully off-grid accommodations and very no-frills.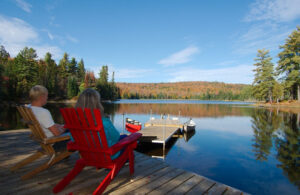 Algonquin Eco-Lodge – Algonquin South Gate
Created to give you the best wilderness experience possible, while minimizing our impact on the environment.
One of the most secluded lodges in Algonquin Park with the feel and atmosphere of a European mountain lodge.  They're completely off-grid and yet, with the alternative energy created from the waterfall (use 100% micro-hydro electricity), the Eco-Lodge still provides all the finer comforts.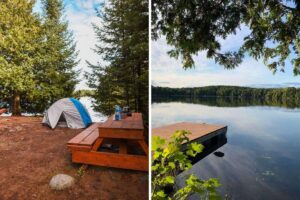 Tryfan Forest – Trooper Lake near Gooderham
Tryfan Forest is an 800 acre privately owned managed forest and wilderness reserve and it borders thousands of acres of crown land wilderness. This is truly a one-of-a-kind outdoor experience.
The property gives access to the lake as well as Tryfan Forest's many trails, and diverse landscape. Tryfan Forest provides something for all outdoor enthusiasts no matter what your experience level is!
Wolf Den Nature Retreat – Oxtongue River
A peaceful, "unplugged" space for guests to spend time in the forest, river, lake, or wetland and then return to the lodge to relax, prepare meals, swap stories with an eclectic crowd of both domestic and international guests, and to rest for the next adventures. We also offer some high quality nature programming.
Beavers, bears, wolves, moose, deer, and otters are just some of the subjects highlighted in the "stories of the day" told by excited guests returning to lodge, as are canoe, hike, ski, snowshoe, dogsled, bike and horseback adventures.