"WHEW! What a crazy adventure this weekend and honestly there was no better way to end it off than with the Howler Bonus cache.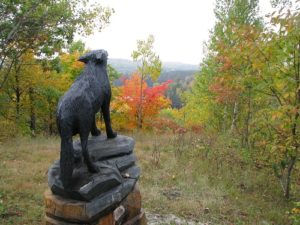 Although it was a crazy hike up to it, to which I wasn't even sure if we were in the right spot at first, it was definitely worth it. It also lives up to that high terrain rating!
We arrived at the virtual spot first and oh man the amazing view there! We each took turns taking pictures with the amazing wolf carving. We marveled about how insane it would be to drag this all the way up the side off the mountain! We took turns relaxing in the chair for a moment.
After catching our breaths we went into the mosquito and black fly infested woods and happily made the final find. Whew! That took a lot of work but I'm so thrilled that we were able to accomplish it.
Thank you Tupper for a truly amazing weekend! We found an insane amount of caches with them all being super creative. I have a ton of pictures that I am going to be able to look back on to remember all the cool creative containers I found. I would have posted them for you to see but I didn't want to spoil them as the GeoTour and Howler series are something that people need to experience. Thanks again for everything! And although I've now completed both, that doesn't mean I'm done visiting Wilberforce. There is still plenty more to find and I love caching up in this area, mosquitoes or knee high snow and all."
For information on geocaching, visit GeocachingCapitalofCanada.com