Floating, Relaxing, rivers & Sun
Best River Floats in Haliburton Highlands
It's quite tranquil to be lounging on an inflatable watermelon, floating where the current takes you. Most of us know from experience what the water sounds like, as you drift from entrance to exit on one of the best places to river float in the Highlands. For those of you who don't know, here are our favourites – but remember as they say, water on the water and beer on the pier!
1. Rotary Park Beach to Main Street Minden (Gull River)
Now, if we were to rate these floats for difficulty, this one would be the most kid-friendly when it comes to hopping in and out. Many who do this float frequently, know that parking a vehicle at Rotary Beach in Minden (off HWY 35, just before the turn to County Road 21 to Haliburton) and parking another in the downtown business area, is the best laid plan. Take the river where it leads you (approximately 1,500 metres) and you will be about an hour in lazy river bliss. While the water is not deep, the current is strong – so our advice would be to make sure there enough life-jackets to go around for the less-confident swimmers.
At the end cool down with some soft ice cream at Minden River Cone or stop by the Dominion Hotel and Boshkung Social who will be waiting for you to make sure that you stay refreshed after your time in the sun so make sure to Ziploc your change purse for a sweet end to this popular summer activity.
2. West Guilford Community Centre to Green Lake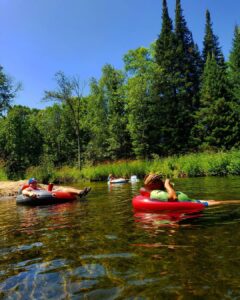 For a shorter float experience, kids of all ages can enter with floaties in at the Community Centre in West Guilford and hop out at the base of Green Lake, across the road from the Lakeside Golf Club (#11524 ON-HWY 118). Local residents say it's a bit less sandy and there may be some dead fall you will have to maneuver around, but still a great place to site-see from the water nonetheless. So, if you have small children and are worried about sticks and murky waters, grab a pair of floating shoes and an extra unicorn-shaped tube for more surface area. Why not throw in a paddle just in case? if you are hungry check out West G Pizza & Grill.
3. Eagle Lake Bridge to Cranberry Lake
Not too far from the second river float, is a more advanced option starting at the Eagle Lake bridge and finishing at the top end of Cranberry Lake. Our friends on the lake want to caution drifters that the exit is far from the public boat landing, so if you don't know someone with a property near that end of the lake, you will be trespassing (which we advise against). You would have to paddle across the entire lake to hop out or get permission from the landowners at the top end of the lake, so the best plan for this float includes a boat (hence being the more advanced float) to the public landing and choosing someone to be the drop-off and pick-up person. They could bring a rod and reel and get some fishing in while the rest of the gang floats down the river, so it's a win-win.
4. Halls Lake
If you find yourself near Halls Lake, park at the bridge on Brealoch Road to launch your floaties from a nice sandy area. You'll end up at a public park at the end of the river where there's play equipment for the kids and BBQ's available to help you to make a day out of it. Creative floaters have a separate dingy tied to someone in their floating caravan to carry their cooler, meaning you'll stay hydrated and be all set when you arrive at the park for a meal.
You may also want to check out our page on beaches if you are looking for a place to cool down.