A loop trail with all the fixings
By Rick Whitteker – Nature writer & outdoor guide
If you are looking for a looped hiking trail in the Haliburton Highlands that checks off all the boxes, I have a suggestion. Moderate terrain, lakeside vistas, mature forest, well marked trails with optional routes are all available at the Fire Tower Trail in Queen Elizabeth 11 Wildlands Provincial Park.
South of Minden, the trailhead is on Devil's Lake Road off Deep Bay Road. You can pick up Deep Bay Road out of Minden or about 15 km south of Minden off of Highway 35. You will see the trailhead sign on your left shortly after turning on to Devil's Lake Road.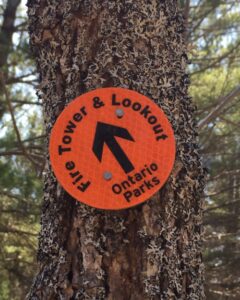 Needing a quality coffee before your hike, downtown Minden has two great options. Up River Trading Co serves up Balzac coffee, delicious and distinctly French with a Canadian connection, Up River also has tasty baked goods and an interesting selection of giftware to grab your attention. Just down the road, the new and vastly improved River Cone, serves up an awesome expresso or try their Affogato, soft vanilla ice cream with a shot of espresso poured over it! Not to worry, there is a decent outhouse at the Fire Tower Trail trailhead!
This 1.7-kilometer loop hike has great variety to it. Soon after setting off, the trail forks, take the left trail and hike clockwise around the loop. The trail steadily climbs through a wonderful mixed hardwood forest. Orange trail markers will help keep you on track. After about 500 meters, there is a side trail to Crane Lake, well worth the effort.
What you might see or hear on the trail…
Approaching Crane Lake in the spring, a chorus of peeps greeted me. An active spring caller until the end of May, this spurt of Spring Peeper calls announced that something big has arrived so be aware! After this brief flurry, I didn't hear another peep out of them during my visit to Crane Lake!
There are three trails with views over the lake. Two drop down to the water's edge allowing for an opportunity to view Picture Plants along the tangled shoreline vegetation. These insectivorous plants have adapted to low nutrient, acidic environments, addressing their nourishment deficiency by obtaining nutrients from insect prey.
With leaves that have evolved to grow into an open-mouthed, vessel-shaped "pictures," this burgundy plant secretes a sweet nectar that attracts insects to its slippery rim. A slip into the plant, and the pooled rainwater, and downward angled hairs along the inside walls of the plant keep the insects from escaping. Digestive enzymes in the water quickly dissolve the doomed prey, making nutrients available for the plant to use.
From the lake vistas, signs of beaver are clear with messy stick lodges out on the lake and classic, pointed sampling stumps near shore. A nesting box mounted on a tree across the lake offers free accommodation to Wood Ducks: they are  cavity nesters unlike many of their brethren. Crane Lake is shallow. Mats of colourful sphagnum moss create lush islands of vegetation covered by Leatherleaf shrubs and White Pine saplings. Mature pines grow around the whole lake's perimeter like a natural, green picture frame.
Spotted on these spongy islands, wet dark disks sparkled in the sun like shards of mica in shoreline sand. Wet turtle shells glistened in the sunlight, as these cold-blooded reptiles basked in the spring warmth after a long winter of dormancy. Without binoculars, I could easily see at least six turtles (species unknown) sunning themselves on dead heads and moss mats.
The Tall Tale of the Fire Tower…
Back on the trail heading north to the main loop and still walking clockwise, hikers soon view an interesting interpretive display about the remains of a fire tower that once stood at this height of land.
Fire Towers were the main tool used in forest fire management in Ontario from the 1920s through to the 1970s. Over 300 towers stood like silent sentinels across Ontario's landscape. Using a large compass called the Osborne Fire Finder, pinpointed accuracy of the fire location was possible by triangulating the bearings from two other towers. Aerial fire detection replaced most fire towers in the 1970s.
The terrain on the back half of the Fire Tower Trail is more rugged. It dips and dives and bobs and weaves through forest valleys and over creeks. Recently, two areas have been rerouted to avoid steep terrain. Rope railings keep hikers from veering off course where the trail has been diverted to make it more hiker friendly. Creek crossings have basic board bridges allowing your feet to stay dry.
This loop trail shares the last six hundred meters with the wilderness section of the Ganaraska Trail. If more trail time is desired, hikers can take the rugged Ganaraska Trail heading to Sheldon Lake to extend the day, or they can stay on the loop trail back to their vehicle. This intersection is well sign posted to help hikers avoid turning the wrong way.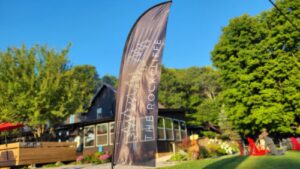 Put a punctuation mark after your day by visiting the Rockcliffe Moore Falls. The Rockcliffe name has a long history in the Minden area and this new version is successfully carrying on the tradition. Great food and drinks, this is the spot to listen to live music, enjoy trivia nights, play lawn games, or just kick back with a great meal. With indoor seating and an outdoor deck and patio overlooking Moore Lake, the Rockcliffe gives visitors many options to find the experience they are looking for at this gem in Moore Falls.
The Fire Tower Trail in QE 11 is a sweet little one-hour loop offering a plate full of nature and physical activity with a side dish of human history. Options include hiking out and back to Crane Lake, the full loop or extend your hike to Sheldon Lake. There is a hike to match all interests and tastes for nature, exercise, and fresh air in this corner of QE 11 Wildlands Park in the Haliburton Highlands.