Adventure at your own pace
The Haliburton Highlands is the perfect place for your next driving adventure. Our pre-planned routes take you through many charming rural communities, with each offering plenty of places to stop and take a break. 
All you have to do is jump in the car and enjoy! Whether you're a member of a car club, organize outings with friends, or a 'lone wolf' that just loves hitting the open road, our route itineraries make your visit nice n' easy.
Driving Routes – Itineraries
Round Algonquin Loop – 272 km Approx 3.75 hours (with no stops). From wildlife, scenic rock cuts and plentiful shorelines, there will be lots of Instagram-worthy photo ops.
This loop will take you through Algonquin Park and will be highlighted by some great lookouts where you will be able to view the picturesque & natural beauty of the Haliburton Highlands.
Minden Hills Nature Ride – apx. 72 km Approx 1.2 hours (with no stops). If you love to hike and explore nature, this ride has 9 possible stops where you can get out and stretch your legs.
Start in Village of Minden and travel Deep Bay Road where you will see lakes and rock cuts along the curvey road.  Along this ride you will pass lots of walking and hiking trails…
Motorcycle Friendly Rides…
Ride the Highlands – Welcome to Ontario's best motorcycle destination.
Located in Ontario's Highlands, two hours northeast of Toronto and bordering Quebec, this motorcycle destination has been handcrafted for you and your bike, with twisty roads, excellent food and panoramic vistas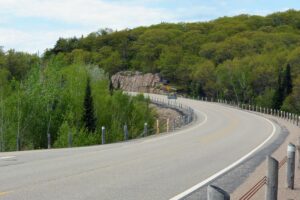 Highway 35 Norland to Dwight
This road took some time to perfect. It's a little wider, the curves a little longer. Threaded along this scenic corridor are some incredible lookouts, roadside attractions and of course good eats. Learn More & Map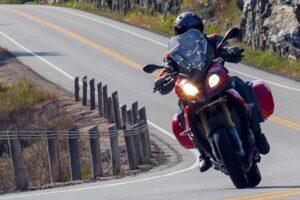 Highway 118 & 28 (Carnarvon – Denbigh)
Smooth and flowy best describes these two connecting beauties that take you right through Haliburton and Bancroft. Impressive rock cuts tell you that you are in pure Canadian Shield country.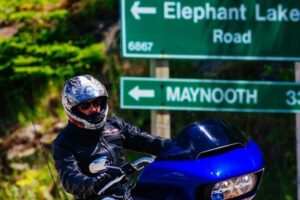 Elephant Lake, Peterson & Loop Road
The greatest distance between Maynooth and Harcourt is NOT a straight line. These historic routes twist and wind their way connecting some pretty cool small towns. Or should we say 'sweet' towns with some incredible food stops. Learn More & Map
Looking for a guided tour…
Yours Outdoors  For a home-grown down home taste tour of the Haliburton Highlands… or explore the hidden gems of Haliburton County in a driving tour…
Look on their website to find list of road trip experiences that will take you around the Haliburton Highlands with entertaining & knowledgeable guides.
Try the Sip, Swill & Savour Brewery Tour or the Tastes of Haliburton or The Art and Syrup of Maple…