*Wander safe, wander local. Check your region's local health guidelines before heading out. 
Spring is in the air in the Haliburton Highlands – especially in the sugarbush – and we are ready to celebrate. This is the time of year when we typically head out to a sugarbush to see how syrup is made, to sample taffy, have a pancake breakfast, and pick up some maple syrup to last us a few months.
This year not all sugarbushes will be welcoming visitors, but that doesn't mean we need to do without our annual maple fix; there are plenty of maple-inspired activities and experiences you can have at home or in your community.
Instead of travelling this spring, bring the sugarbush home with one of these COVID-friendly maple-licious ideas.
Bring Brunch Home
It's true there aren't many sugarbushes offering pancake breakfasts this year (although there are still a few around, see below) that doesn't mean you need to ditch this fun springtime tradition. You can make an epic pancake brunch with all the fixings from the comfort of your own home.
These Haliburton Highlands' sugarbushes have created fun at-home breakfast bundles that will keep your sweet tooth satisfied.
Haliburton Forest – The Cookhouse Breakfast
You can try Sourdough French Toast with Haliburton Forest's own Maple syrup, available with side of berry compote and/or whipped cream.
Wintergreen Breakfast
Take home a frozen breakfast complete with pancakes, French toast, waffles, sausages, and maple syrup. Order by calling Wintergreen directly at 705-286-3202.
Also available is Molly's Bistro & Bakery Breakfast
During Maple Weekend try Molly's MINDEN'S MAPLE MADNESS special. An omelette with Wintergreen maple syrup, Coneybeare's Special sausage, cheddar cheese, Kawartha Dairy milk all wrapped in one of Molly's homemade crepes, topped with more cheddar and more maple syrup.​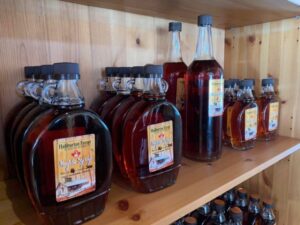 Order Syrup Online
It's been a full year since the last crop of maple syrup was bottled and we're more than ready for the new batch, fresh and hot from the evaporator. Don't worry, pandemic or not, maple syrup producers across the region are here for you.
You can order syrup online for curbside pick-up or shipping straight to your door.  Visit our Maple Season website to use the interactive map and find a producer near you.
Experience the Sugarbush
While many sugarbushes aren't offering tours or pancake breakfasts this spring, there are still some folks who are creating COVID-compliant experiences for visitors. Check with the sugarbush you plan to visit before you head out for up-to-date info on what they are offering for visits. Here are a couple of locations that are booking tours and and/or pancake breakfasts.
Esson Creek Maple
In Haliburton Highlands, Esson Creek Maple is offering a sugarbush tour for one couple or one family for $45. The tour includes a walking tour through the sugarbush, sugar on snow, and a bottle of syrup to take home. It's a sweet excursion with big rewards. Pre-registration is required.
Haliburton Forest
Yours Outdoors has created a sweet experience in Haliburton Forest, aptly named the "Maple Slurp." Take a tour of the sugarbush and the rustic sugar shack, taste various maple products and leave with a culinary treat from The Cookhouse. You'll get a chance to taste syrup from producers, and maybe even sample some birch sap while you're there. Wrap your visit up with pancakes, snacks, or dessert. Plan to spend three hours here and it's BYOS (Bring Your Own Snowshoes) or rent some from Yours Outdoors for $10.
Wintergreen Maple Products
People are invited to tour the bush on self guided tours of no more than 5 people.
Do It Yourself (seriously)
If you have access to a maple tree you can make your own syrup in your own backyard! Talk about living the sweet life and that life can be yours this spring. Tapping a tree and making syrup is easier than it sounds, and you'll love how delicious freshly boiled syrup tastes, straight from tree to table. Your kids will love it, too! All the taffy you can eat…yum.
You can purchase a do-it-yourself equipment from Can- Aqua Pure that includes a taps, lines, bottles, evaporators and all of the equipment you might need to get you started.