We are fortunate to have three breweries in our county: Haliburton Highlands Brewing, Boshkung Brewing Company & Devil's Edge Brewery.  On a recent visit to Haliburton Highlands Brewing, which is located at 1067 Garden Gate Drive, adjacent to Abbey Gardens, I was pleasantly surprised to find an art exhibition in the service area.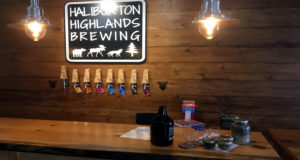 It's wine, not beer, that is the alcoholic beverage most commonly associated with art; it's served at just about any exhibition opening in any gallery, throughout the world. So it was interesting to experience the beer/art connection. perhaps it's not so surprising considering the loftiness the craft breweries have experienced in recent years, which has seen them offering such a variety of fine products that to be a connoisseur is no longer to be looked down upon from the heights of wine aficionados.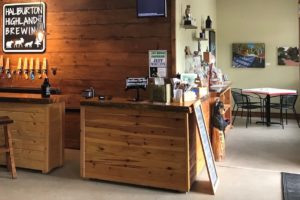 I go to Haliburton Highlands Brewing for their Irish Red Ale , but on this occasion, when I was merely returning empty bottles. I was pleasantly confronted with the art. the exhibition is part of the Art in Public Spaces initiative, a program of the Arts Council – Haliburton Highlands.  Previously some of the venues for the art have included Pinestone, Highlands Summer Festival, Baked and Battered, Haliburton School of Art + Design, Horthern Lights Performing Arts Pavilion. Winter Folk Camp, Hike Haliburton and the streets of Haliburton Village.
At the small and intimate space at Haliburton Highlands Brewing the art, which includes photography, has the feel of being part of the ambiance; like it's been there for some time.  There are some moody landscape photographs in black and white from Peter Bowers, where the ubiquitous canoe is featured.  Bowers has also seen fit to include some very creative photos of winter scenes that play with shadows on snow, and textures.  Some acrylics by Susan Hay, who seems to be everywhere, play on the same theme. but her meticulous images are in colour, and depict more traditional landscapes than those of Bower, whose winter photos border on the abstract.
Another photographer, Reiner Arnold, has also chosen the black and white approach. His four images include two of forlorn trees, and two images which depict produce on display at an outside market.  These latter two have a decidedly European feel. Also to be seen is a display of prints and all occasion cards by artist Wendy Wood.
In one corner of the service area stand two stools against which lean two electric guitars.  These are for anyone who wants to get up and play, from 6 to 8 pm., at the Thursday evening jam sessions.  In the summer there are plans for regularly scheduled live music.
All the pieces at the art in Public Spaces exhibit at Haliburton Highlands Brewing are for sale, and will remain on the walls until April 30.  So you have until then to experience the art, the art of the brewer, and on Thursday evenings, the music of some of our fine musicians.  I'd day that's a package that's hard to beat.  More information on the brewery, including hours of operation, can be found at haliburtonhighlandsbrewing.ca,
Written By George Farrell for the County Life