Algonquin Provincial Park
High Falls, accessed from the South Gate
EVERYTHING YOU NEED TO KNOW BEFORE VISITING
Few have discovered Ontario's largest Provincial Park from the bottom up. Far removed from the bustling East and West gates of Hwy 60, Algonquin Provincial Park's South Gate is located near the hamlet of Harcourt on Elephant Lake Road and is a much more relaxing experience. Although you'll find the cell phone signal begin to fade away you'll soon find why the South Gate is a quiet corner on the map that enjoys a closer connection to the park while offering many amenities and services to fuel your adventure.
There is the High Falls Hiking Trail, The Byers Lake Mountain Bike Trail, Scorch Lake Lookout and so much more.  As well you will find great adventure with our tour operators like camping, horseback riding, canoe & kayaks.  Please note that an Algonquin Park day permit is required. For more information about making a reservation for a day pass click here.
IF YOU LIKE BEING ON THE WATER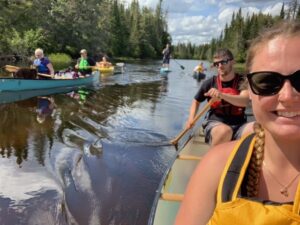 The Kingscote Lake Access point is a must if you love padding on the water. You can either bring your own canoe or kayak or rent one during the summer.
Deep Roots Adventure provides a wide selection of rental gear and camp meals to go including canoes, kayaks, and paddleboards.  You can even book full camping packages that include everything you need – just bring your clothes!
If your looking for a guided experience check out their most popular day trip, High Falls Paddle, Explore & Dine, or something perfect for larger groups, the Paddle, Ride & Dine. You can book a custom date for a group, or join in on one of their pre-scheduled dates.
MOUNTAIN  & GRAVEL BIKING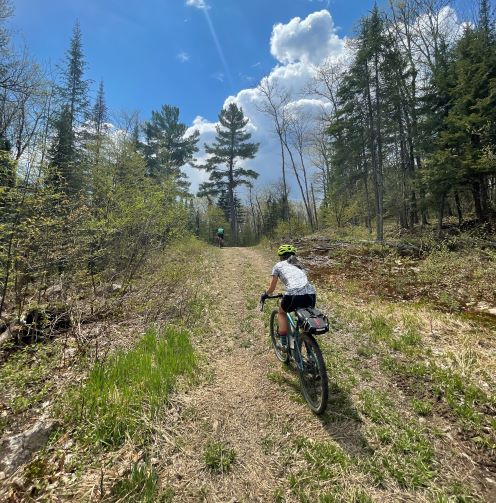 The Southern part of Algonquin Provincial Park has the Byers Lake Mountain Bike Trail, a short mountain bike trail of 6.5 km (13 km round trip) and moderate degree of difficulty can also be accessed east of the Kingscote Access Point. Once on the mountain bike trail, there is an interesting 150-metre side trail that provides access to Gut Rapids, which is a narrow scenic canyon on the York River.
Looking for a unique backcountry gravel-riding adventure? The Kingscote/South Cauliflower Lake loop offers 70 kms of almost pure gravel through the park. This is not southern Ontario gravel; you are more likely to see a moose than a café. You need to be mechanically self-sufficient as cell coverage is spotty and long stretches are not accessible to motorized vehicles. If you are looking for an entry level gravel ride, try out the Kingscote Lake Short Loop.
You can find more gravel biking route in the area by clicking here.
HIKING TO HIGH FALLS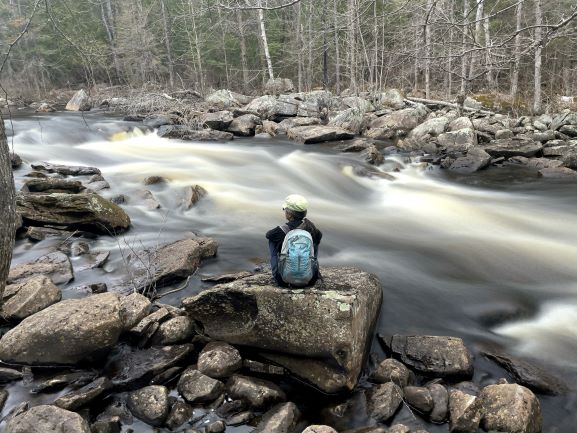 If hiking is one of your favorite things be sure to explore the High Falls Hiking Trail, Starting from the High Falls parking area, the trail follows an old road through a Red Pine plantation. It then becomes a footpath northward through hardwood forests on the west side of the York River. The trail connects with the first portage on the river then branches off to a rock point north of High Falls.  From the end of the trail you have a view of the top of the rapids upstream of High Falls and a view downstream of the falls.
EXPLORE THE TRAILS ON HORSEBACK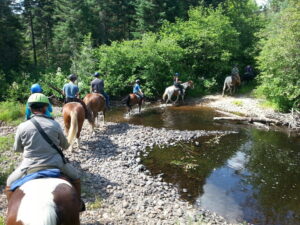 South Algonquin Trails Equestrian Outfitters has been providing memorable horseback riding experiences at the south end of Algonquin Park, in the Haliburton Highlands since 1999.  They offer pony rides, various lengths of trail rides, overnights, morning summer camp, campsites to camp with your own horses, cabins and stall rentals.
With access to many kilometres of trails, you can be assured of fun, exciting and safe rides, led by experienced and certified trail guides. Being a family oriented Stable they offer something for everyone along with trails and horses for all levels of riding experience.
EXPERIENCE THE WATERFALLS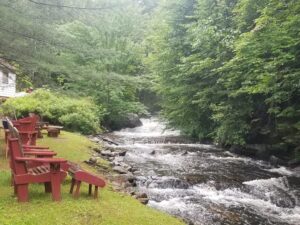 The Spirit of the Waterfalls includes 5 Customized Guided Experiences designed to let you disconnect to reconnect. All journeys are customized to flow with the pace of your holiday. Come wander within the magical realms of Nature – and just Be!
The journey begins at Gaia's Den, near the South entrance of Algonquin Provincial Park. This excursions are guided shamanic journeys which combines the outer natural landscape of lush forests with our inner landscape accessed physically, emotionally, mentally & spiritually through the moving meditation of hiking, yogic breathing, tribal singing & drumming, ceremony, meditation & quiet reflection at 3 distinct, private waterfalls…
Tips For Provincial Park Camping
Book early – Campsites and roofed accommodations can book up fast. But, you can beat the crowd by booking up to 1-month ahead on the Ontario Provincial Park online booking system. You can access that here.
But don't give up – Many Ontario campsites book up early, but many also have last-minute cancellations. If you don't mind last minute planning, keep checking the Ontario Parks site to see if there are any late openings. Sometimes this is the best way to get a prime site.
Plan the weather – Watch the weather forecasts before your Algonquin camping trip. And always prepare for the worst. You never know what could happen without warning. Pack tarps for covering your gear, mosquito repellent, and, of course, sunscreen for all that time outdoors.
Don't move firewood – This can be a hard one to swallow since the Ontario Parks aren't known for providing the best firewood. But moving firewood from one destination to another can cause devastation.
LOOKING FOR A PLACE TO STAY OVERNIGHT
Hungry after your adventure?
Isn't it true that food always tastes better when you're outdoors and pleasantly exhausted from a day spent being active? If you find your appetite is making a roaring appearance, pick up something hearty and delicious to refuel from these spots.
OTHER THINGS TO DO WHILE YOU ARE HERE
If you are spending more than a weekend at Algonquin's South Gate area you may want to take the time to explore some of the other great things to do. Since Algonquin Park is right among some of the most spectacular attractions of the Ontario Highlands there are many great places to explore.