Abbey Gardens- Trails and more!
By Rick Whitteker – Nature writer & outdoor guide
I like hiking. It is the best way I can find to move the body, exercise the heart, and calm the mind. At Abbey Gardens, everything is anchored in a philosophy of sustainability and stewardship, which just adds to my hiking enjoyment. With up to 5 km of marked trails, there are plenty of hiking options to choose from.  I also like wood fired pizza, craft beer, fresh vegetables, and good coffee. These are potential added bonuses to your day hike at this non-profit charity on highway 118 just west of West Guilford in the Haliburton Highlands.
The Trails at Abbey Gardens…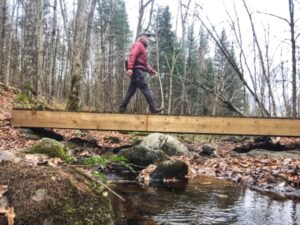 Picking up the property trails map at The Food Hub, my exploration of the trails starts with the Mindful Marsh Trail, a 1.5 km trail starting at the south of end of this 300-acre property. This trail passes through a nice mixed hardwood forest complimented by a bridge crossing a rocky creek. A large marsh comes into view at the south end of the trail where you will find evidence of beaver, with a recently fortified dam backing up the natural flow of water creating this expansive wetland. Over 20 small black and white Bufflehead ducks kept their distance from me while enjoying this calm oasis.
Another trail to explore is called the Otter Slide is a short forest romp, twisting and turning like a belly slide of an otter on a luge course! The Otter Slide Trail skirts past the enchanted forest kids' activity area, a family friendly destination which includes tantalizing outdoor play locations like a mud kitchen and construction zone. This creative play zone is another option for families looking to combine exercise and play on a self-guided outdoor experience.
What you might find on the trails…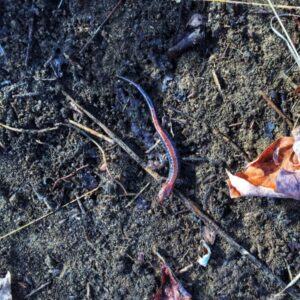 With a flair for alliteration and tongue twisting trail names, the Mindful Marsh Trail hooks up to the Twisted Moose Tracks Trail. On this .9 km trail, I did not see any moose tracks, but found another unique feature. Short, thick, untreated hemlock boards are laid out close to the trail on the forest floor.
Hikers are encouraged to look for salamanders under these boards, a great way to engage people in nature exploration without significant disturbance to the forest environment. These boards simulate a desirable habitat for forest salamanders and other small critters. Being careful to lift the boards gently from one end, I was lucky enough to find a Redback Salamander under one of the boards.
This common amphibian moved only slightly on this cool day, being ectothermic, or cold blooded, their activity level is dictated by the air and soil temperature around them. Surprisingly, in many Ontario forests, Redback Salamanders are more numerous than any other vertebrate, but they are seldom seen, as they prefer cool, damp places like below the leaf litter, under logs and rocks. They are also never heard; they are completely mute.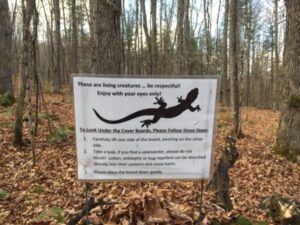 People are asked not to handle the salamanders as your hands need to be clean, free of lotions, bug repellant and the ever-present hand sanitizer. This is difficult to monitor on this self-guided educational opportunity, staff trust that the guidelines will be followed. All amphibians, (frogs, toads, salamanders and newts) "breath" through their skin, hence anything on your hands could affect their health. Redback Salamanders filter oxygen through their skin and the roof of their mouth but do not have lungs. Their skin must stay moist to facilitate this process, explaining their habitat preference.
The Twisted Moose Tracks trail links up with the Back Forty Shorty. This 1.6 km loop is wide and flat and leads to the Abbey Gardens Disc Golf Trail. This disc golf course is another fine attraction at Abbey Gardens. Hole number one starts in the Pit, a former quarry, before climbing up into a hardwood forest where you will be challenged by narrow fairways and forested "roughs". A wonderful walk on its own, disc golf at Abbey Gardens is a great way to get some quality outdoor exercise on a challenging but fun disc golf course.
After your hiking is finished…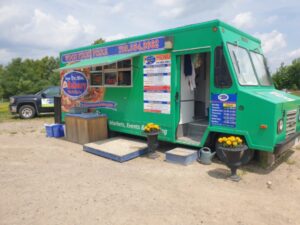 If all this hiking makes you hungry, consider an authentic Italian wood-fired pizza at the Into the Blue permanent food truck location at Abbey Gardens. Started in 2014 by the ever-social Janine Papadopoulos, your delicious pizza can be perfectly paired with your favourite craft beer if desired. Saunter the short distance over to Haliburton Highlands Brewery with pizza in hand and pull up a chair on their patio or taproom. What a great way to end (or start) your visit to the trails of Abbey Gardens.
Offering live music every Friday evening and Sunday afternoon through the summer, the Haliburton Highlands Brewery is an award-winning micro-brewery producing handcrafted, premium ales using local ingredients and sustainable practices- well aligned with the environmental consciousness of Abbey Gardens and other businesses on the property.
For me, after hiking, I headed back to the central, open rehabilitated gravel pit with its off-grid solar demonstration area, pony paddock and then over to the heritage chicken coop, organic gardens and hoop houses. So much to see and learn, however, my interest in further exploring this dynamic destination is overruled by my need for a hot drink.
Returning to The Food Hub, inside the scent of coffee draws me like a bee to nectar. Peering through the glass counter, I see some tasty looking baked goods, samosas, and micro greens. Behind the counter sits a shinny espresso maker, with more dials, buttons and levers than a cockpit of an airplane! I order a dark roasted americano- fair trade, single source beans roasted on site in The Hub's kitchen and ground fresh upon ordering. It is rich and flavourful and does not disappoint- just like my visit to the diverse trails and unique attractions at Abbey Gardens.